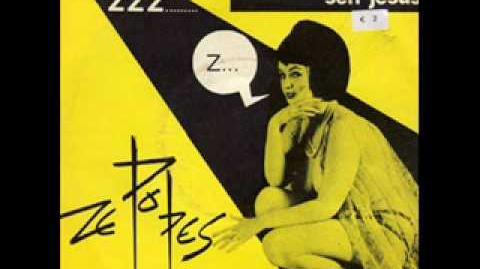 Shortlived 70's new wave group from Amsterdam,
Netherlands
. They are best known for the single 'Sexy Pyamas' on the independent label Plurex Records. A few years later an EP with this song and other material was released on Universe Productions. Drummer Orpheus Roovers joined Minny Pops in 1982 for a short time. Jan Bloemers (bass, vocals) used to be part of a cult act called Felix Cat Mauw Wauw Groep. One of the members of Ze Popes has been bass player Hans Witteveen, formerly a member of Drukwerk. Since 2005, Orpheus Roovers (drums) and Jan Bloemers (vocals, lead guitar) have been members of a band with Edward de Haan (guitar) and Igor Roovers (bass) which has performed under a number of names but is currently called
The Specific Gravity of Rock
.
Links To Peel
Peel played one of their songs on 01 November 1979 and commented:
Strange Dutch persons on the Plurex label and that's called Sexy Pyjamas, as you might have imagined, but the band is called The Popes, well not exactly The Popes but Ze Popes, Zed E Popes. Interesting eh?
Sessions
Festive Fifty Entries
Show Appearances
External Links
Ad blocker interference detected!
Wikia is a free-to-use site that makes money from advertising. We have a modified experience for viewers using ad blockers

Wikia is not accessible if you've made further modifications. Remove the custom ad blocker rule(s) and the page will load as expected.