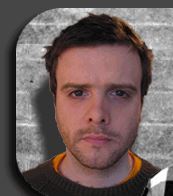 William Robert Anfield Ravenscroft
(born 12th January 1976) is the oldest of Peel's children: he studied at Combs Middle School in Stowmarket, Suffolk and at the University of Liverpool studying Archaeology. William later on got involved in setting up a website called
Unpredictable Porridge
[1]
, where unsigned bands could have their music listened to directly by music executives. The website has since been closed and there is no further news on William's current activities.
Girlfriend / Wife
William met his long term girlfriend Zahra d'Aronville while both were at university, where Zahra was studying Zoology. After graduating, the couple moved to Newcastle, where Zahra was working as a zoologist at an aquarium and later promoted to management level. [2] In 2008, they decided to get married at St Andrew's Church in Great Finborough, Suffolk. [3] The couple currently have three children. [4]
Father And Son
John Peel often mentioned his son on his radio shows and in one television documentary in 1999 called Father And Son, he talked about his relationship with William and his criticism of his bedroom hygiene. Later on in his BBC Radio One show from 01 September 1999, Peel apologised privately and publicly to his son William on air about embarrassing him.
Mentioned On Shows
The list comes from the database of this site and is incomplete. Please add further information if known.
1976
1978
25 January 1978: (JP: 'And that's William Ravenscroft the trainee football hooligan, who has a nasty way of getting up around this time to listen to his father's radio programmes.') 
1979
1980
1982
24 February 1982: JP: "..having considerably embarrassed Phil Oakey at the National Rock and Pop Awards by going over and telling him how good I thought they (Human League) were and how good my son William thinks they are as well.."
1983
13 January 1983 (TOTP): (JP: …and now at No.17 in the charts, happy birthday William, this is the theme music from 'E.T.') 
1984
1985
04 March 1985: Peel mentions going to Holland with William (age 9) and enjoying spending time with his son, including visiting an excellent Turkish Restaurant.
1986
29 January 1986: Peel mentions meeting LL Cool J in the morning, but failed to get an autograph from him for his son William.
1987
12 January 1987: Peel mentions that it's William's birthday, who was not pleased along with his friends when his father dropped them to school during the snow and found out that he was the only one in the village to successfully drop them, whilst the place was closed and everybody else was at home.
1988
26 April 1988: Peel mentions that his son William is in Derbyshire with his school trip.
1989
1990
1991
1992
1993
1994
01 January 1994 (BFBS): (JP: 'This is a track which I keep coming back to.... and it's a song that always upsets me, I don't know why I always play it - you think - "He's been reading my diaries" it identifies so neatly the relationship between father and son at least as experienced between myself and our William, nearly 18.') Loudon Wainwright III: A Father & A Son (album - History) Virgin V2703
15 July 1994: Tribute To Nothing: 'Can't Get Up' (Peel Session) (JP: Well I'd like to dedicate that track to our William, who has a very similar problem to that.')
1995
1996
1997
1998
1999
2000
2001
09 May 2001: Peel gets an email from his son William, who writes was the mullet that he saw in Finland as good as Pat Sharp or his mum's old one.
2002
05 March 2002: JP: "I got a concerned phonecall from our William actually, while that record was playing, to say that his girlfriend was very disturbed indeed at the thought that I might actually have a hymen in a matchbox. I had to assure her that it was a rather tasteless joke."
2003
24 September 2003: Peel mentions that William had been to see the Immortal Lee County Killers recently and was very impressed. "In fact, he went to see them again the following night, that's how good they were."
05 November 2003: It is mentioned in passing that William had been in Prague that weekend.
2004
07 January 2004: As a Christmas gift, William and partner Zahra had given Peel "an excellent book" of photographs for the most part taken along Route 66 in the US.
08 January 2004: Peel's production team decide to play a rendition of a musical card playing 'You're The One I Want' from the musical Grease to celebrate William's birthday on the 12th of January. 
See Others