Trixie's Big Red Motorbike
Talk

0
Trixie's Big Red Motorbike were an indiepop band from the Isle of Wight, U.K. Formed in 1981 and lasted until 1985, the group released several influential singles, but did not achieve commercial success. The group consisted of Mark Litten (Drum Machine, Bass, Guitar), Jim Bycroft (Keyboards, Tenor Saxophone), Melanie Litten (Vocal, Recorder) and Jane Fox (Vocal, Cellesta). The group were one of John Peels' favourite bands of the early 1980s. They recorded two sessions for his BBC Radio 1 show. On his 25th August 1983 show he said they "wipe the floor with the competition".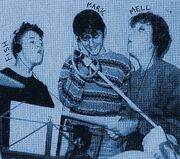 Sessions
Edit
1. Recorded: 1982-07-28. First broadcast: 24 August 1982. Repeated 09 September 1982.
You Took Him Away From Me / Invisible Boyfriend / Splash Of Red / Whatever Happened To The Treetops
2. Recorded: 1983-08-17. First broadcast: 25 August 1983. Repeated 14 September 1983, 29 December 1983
That's The End Of That / In Timbuktu / White Horses / One Nation Under A Brolley / Norman And Narcissus
For contractual reasons neither of these sessions was released on the "Peel Sessions" series of 12" vinyl. e.p.s issued by Strange Fruit Records. The band's name does appear on the generic front cover of this series, however.
Other Shows Played
Edit
1982
1984
External Links
Edit