Career Outline
Soulbossa were a three-piece originally from Blackburn in Lancashire, but who later relocated to London. Members: Peter Jones (vocals/guitar), Tracy Bellaries (bass). Michael Ford (drums).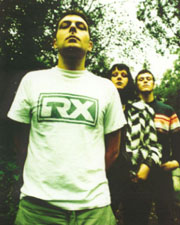 . Their name is spelt Soul Bossa in 'The Peel Sessions'.
Links To Peel
Peel played their debut single on Dishy Records, which later entered that year's FF chart. They also did two sessions for the show.
Festive Fifty Entries
Sessions
Two, neither commercially released.
1. Recorded: 1995-05-14. First broadcast: 03 June 1995. Not repeated.
Dirt Track / The Big Hurt / Hang Your Head / Wrong
2. Recorded: 1996-10-13. First broadcast: 03 November 1996. Repeated: 19 January 1997
Red Rag / Nothing / Beginning Of The End / Now
Other Shows Played
External Links
Extensive interview from a US source, which describes JP as "a sort of UK equivalent of Rodney Bingenheimer".