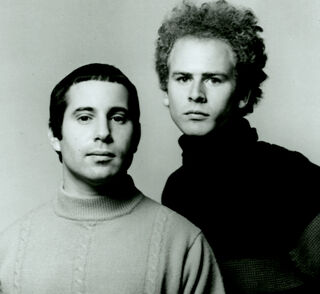 Paul Simon
and
Art Garfunkel
grew up in Queens, New York, attended the same schools and began singing as a duo inspired by the
Everly Brothers
. They made their first record in 1957, under the name Tom and Jerry; as they were still at high school it was appropriately called "Hey Schoolgirl" and was a minor hit in the US charts. They split up soon afterwards to pursue their college studies, but re-united in 1963, with Simon's songwriting and their musical style now influenced by the 1960s New York folk scene. They recorded an LP for Columbia Records,
Wednesday Morning 3 A.M
, which had no initial success, and once again split up, with Simon moving to London and establishing himself as a solo performer and songwriter on the then thriving British folk club circuit. Simon recorded a solo LP for CBS and was apparently happy with his life in the UK when he learned that a track from Wednesday Morning 3 A.M., "The Sound Of Silence", had been issued as a single with added electric accompaniment and was a hit in the U.S. He returned to the U.S and reunited with Garfunkel. Five years of commercial success followed, culminating in the 1970 LP
Bridge Over Troubled Water
, one of the biggest-selling albums of its era - after which they broke up. Both enjoyed successful solo careers but have periodically reunited for tours and concerts.
Like the Beatles, Simon and Garfunkel were able to appeal to a broad range of audiences, from middle-aged and middle-of-the road to young and hippy (they appeared at the 1967 Monterey Pop Festival). Yet, unlike the Fab Four, their popularity with the public was not matched by unanimous critical acclaim. For some, they were not "folky" enough, for others not as radical in their protest as Bob Dylan, with some of Simon's songs being seen as excessively sentimental. The sensitive, college-boy image they projected could seem too meek and mild for the revolutionary late 1960s; yet at the time they were closer to what was later called the "counter-culture" than to mainstream showbusiness. A full account of their career can be found on Wikipedia
Links to Peel
Simon and Garfunkel's records were played on pop radio when Peel was working in the United States. Their singles featured in the playlists of KMEN in 1966, but it was during the Perfumed Garden period that he played their work most frequently. Two songs in particular appealed to him; "Sparrow", from the Wednesday Morning 3 A.M. LP, which became one of the show's anthems, alongside The Misunderstood's "I Can Take You To The Sun", and "At The Zoo", issued as a single in 1967 and included on the "Bookends" LP in the following year.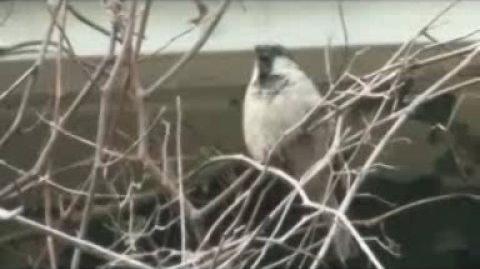 "Sparrow" is a song which Simon seldom revisited and Peel's enthusiasm for it has not made it one of his better-known compositions. Clearly an early work, its lyrics appealed to Peel because the sparrow of the song can be interpreted as a kind of social outcast who is the victim of the snobbery and selfishness of others, but in the end finds acceptance in the grander scheme of things. It therefore fitted in with the personal take on the hippy philosophy Peel developed during the show; sparrows were a frequent topic on the Perfumed Garden and at one point Peel even claimed he was himself a sparrow. He was always wary of the hippy stereotype of young, extravagantly-dressed "beautiful people" and disliked the narcissism of "Swinging London", so the sparrow symbolised an ordinariness which was overlooked by those who, as so often in 1960s youth cultures, judged by external appearance alone. Peel did play the song after the Perfumed Garden era, but on the one occasion when he tried to explain the meaning of the song on the first Night Ride sounded nervous, saying that it was "all about communication".
"At The Zoo" is also connected with Peel's interest in small creatures. At the time he visited London Zoo and spoke on the Perfumed Garden of how he was fascinated by the inhabitants of the zoo's Small Mammal House - the gerbils, dibblers and hamsters. Later, of course, he was to name his record label after one of his pet hamsters (Dandelion) and its music publishing company after another (Biscuit). So Paul Simon's whimsical interpretation of the characters of various animals caught his attention - especially the line "Hamsters turn on frequently" which, with its coy drug reference, suggests that the creatures have hippy attributes.
When Bookends was released in spring 1968, Peel praised it highly, both on-air and in his International Times column: "Bookends ... is a masterpiece ... the best LP currently available anywhere". [1]
The song "Mrs Robinson" from the album was used on the soundtrack of the film The Graduate, whose director Mike Nichols had become a fan of Simon and Garfunkel. The film became a big hit, as did the song, broadening the duo's audience, but Peel was still enthusiastic enough to be the first DJ to play tracks from their next album, Bridge Over Troubled Water on Radio One. He also played tracks from Paul Simon's solo albums, although as the 1970s progressed the "adult-oriented" pop music Simon epitomised became less interesting to him (it was receiving plenty of radio exposure on other programmes).
Paul Simon's influence affected two other artists who did sessions for Peel. Martin Carthy was annoyed that Simon, while living in London in the mid-1960s, appropriated his arrangement of the traditional song "Scarborough Fair" (as recorded on Carthy's first LP) and had a big international hit with the song without crediting him. Only after 35 years, in 2000, did the two singers meet up and resolve the conflict, with Carthy guesting on one of Simon's London concerts. Billy Bragg borrowed the opening lines of Simon's song, "Leaves That Are Green", for his "A New England" ("I was 21 years when I wrote this song/I'm 22 now and I won't be for long"). Simon did not object to this, but apparently Bragg received a letter from his lawyers. In 1987, Bragg was among the musicians who protested outside the Royal Albert Hall when Simon took his 'Gracelands' tour to London. [2]
Festive Fifty Entries
Sessions
Other Shows Played
12 July 1967: Sparrow (LP - Wednesday Morning 3 A.M.) Columbia 9049 (US release) :(JP: "There is some poor, pitiful sad oaf in Slough who hates the dawn chorus....and this fellow has killed 700 sparrows...this is revolting...because I'm a sparrow, maybe you are too, and we may be next")
16 July 1967: The Sparrow (LP - Wednesday Morning 3 AM) Columbia 9049 (US release)
(JP: "And the next record is for somebody who has a very small and defenceless pet sparrow who thinks he's a cake, believe it or not, and worries considerably about whether his icing is going to crack or not. Simon And Garfunkel.")
18 July 1967: The Sparrow (LP - Wednesday Morning 3 a.m.) Columbia 9049 (US release)
18 July 1967: The Sparrow (LP: Wednesday Morning 3 A.M.) CBS (fades)
06 August 1967: The Sparrow (LP: Wednesday Morning 3 A.M.) Columbia 9049 (US release)
(JP: "Oh yes, some of the happiest hours actually that we've had in the Perfumed Garden so far together, as far as I've been concerned anyway, have been when I've been talking about these tiny little things like dibblers and sparrows and mini-mice and gerbils and jerboas and all these other things – of hamsters, because I'm really insane about them, you know. I go to the zoo and I go to the small animal house and I see these little tiny things hopping about, you know, and they all bite their fingernails. You know, when they eat they all sort of hold it up in their paws, you know, and you hear them going [biting sound], like this with the food. And it's marvelous – and they hop about and grin at you, you know, because they're behind the glass and they don't have to bother. And they really do know something, they honestly do, you'd be surprised. And of course the sparrows do in the park and everything. And so when I move in and get organized in the new Peel Acres, you know, the place is going to be full of hamsters and other little things hopping about, and it is all going to be entirely beautiful. … Anyway, I'm raving on. Here are Simon and Garfunkel with a song that sums up the whole thing in many ways. This is At The Zoo.")
(JP: "And now, Simon & Garfunkel with their latest American release, which I think is great. And in the middle they say something about Mr Leitch. At least a woman says, "Did you have a good day, Mr Leitch?" And I wonder if they are talking about Donovan. Anyway, we shall never know, you see. Another one of these intangibles. Fakin' It is the name of it. Let's listen.")
14 August 1967: Fakin' It (single) CBS 2911 (final Perfumed Garden) (JP: "Great record from Simon & Garfunkel there and that's called Fakin' It, which is very popular in America.")
14 August 1967: Sparrow (LP - Wednesday Morning, 3 AM) Columbia 9049 (US release) (final Perfumed Garden) (JP: "There are a great number of sparrows actually, hopping around in the Perfumed Garden, and some of them occasionally visit Hyde Park and places like that and you can go down to the park and watch them as they stand on the edge of the water and scatter the water about themselves and take their little tiny (???) and everything, and they are very beautiful. But the only way you will see how beautiful they are is if you get up very close to them and talk to them and look. And underneath the little brown feathers they have on top you'll see multi-coloured feathers underneath that shine and go right through them, and glisten and dance.")
(JP: "You'll notice if you're particularly perceptive that in the middle of this record there is a spoken bit in which they mention Mr Leitch. And of course Mr Leitch is Donovan.")
01 October 1967: Fakin' It (single) CBS 2911 (first Top Gear) (JP: "That was one of my favourite records actually – a song for you to pick and plant in your minds, so to speak.")
(JP: "Time now for a mildly embarrassing selection from the Perfumed Garden:")

Paul Simon solo
15 May 1973: Tenderness (LP – There Goes Rhymin' Simon) CBS
17 May 1973: Take Me To The Mardi Gras (LP – There Goes Rhymin' Simon) CBS
24 May 1973: Learn How To Fall (LP – There Goes Rhymin' Simon) CBS
See Also
External Links
Ad blocker interference detected!
Wikia is a free-to-use site that makes money from advertising. We have a modified experience for viewers using ad blockers

Wikia is not accessible if you've made further modifications. Remove the custom ad blocker rule(s) and the page will load as expected.