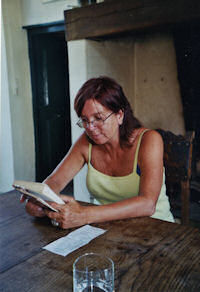 Sheila Mary Ravenscroft (née Gilhooly; born 27 October 1948) is of Irish Catholic descent, and was born in Bradford, Yorkshire. She was married to John Peel from 1974 until his sudden death in 2004. Before meeting Peel, Sheila was training to be a chemistry school teacher until she met him at a television studio in 1968, where he was presenting a TV show called How It Is. Peel explains in more detail about how he met her in a BBC interview called Interview: On Meeting Sheila.
Marriage To Peel
Sheila was often referred to as "The Pig" by Peel, due to her characteristic laugh. They had four children: William Ravenscroft (born 1976), Alexandra Ravenscroft (born 1978; known as Danda), Tom Ravenscroft (born 1980) and Florence Ravenscroft (born 1982; known as Flossie), plus one grandchild called Archie in 2003 from Alexandra and her partner Ashley. Peel and Sheila lived in London when they first met, and later on decided to move to the countryside in Great Finborough, Suffolk, where they lived in a house affectionately called Peel Acres (a name JP had given to anywhere he lived since the 1960s).
In 1996, whilst at the Isle Of Man TT Races with fellow DJ Andy Kershaw, Peel learned that Sheila had suffered a brain haemorrhage and immediately went back to Peel Acres to visit her at hospital. Although Sheila appeared to have made a complete recovery, John was understandably shaken.[1] The following year, she suffered a relapse for some time in which her eyesight began to deteriorate and she became virtually colour-blind: this led to her being unable to drive. [2]
Peel Acres
During their time living at Peel Acres, Sheila decided to be a housewife and often organised trips abroad for young people and took part in the village community's activities (for example, she is a member of the local operatic society) [3]. John also got Sheila involved in his BBC Radio One shows at Peel Acres, especially the Pig's Big 78, where Sheila would announce an old 78 rpm vinyl record before it was played (this segment became so popular among listeners that one suggested she should make it into a roadshow).
After Peel's Death
Since Peel's death in 2004, Sheila has been involved with the John Peel Centre for Creative Arts in Stowmarket, Suffolk, where there is a place for young people to get involved in theatre, arts and music. She's also involved with the Space project, where they aim to record John Peel's Record Collection on their virtual online museum website. Plus she enjoys choir singing and looking after her grandchildren who take up the rest of her time. [4]
In November 2015 Sheila Ravenscroft took part in the BBC Radio series Inheritance Tracks, in which guests select two pieces of music which are important to them; she chose 'Panis Angelicus' by César Franck and 'You Little Thief' by Feargal Sharkey [5].
Mentioned In Shows
1971
24 July 1971: Peel mentions he's alone in the studio and dedicates a Rod Stewart record to the Pig who is ill in bed
14 December 1971: Peel mentions that Marmalade make good singles and a nice LP and says that their single Cousin Norman was his all time best single which he admitted to sing along with the pig in his flat.
1974
29 August 1974: Bridget St. John performs a song entitled 'Pig & Peel', the lyrics of which she had written herself, and which was obviously dedicated to the couple.
1975
19 December 1975: Peel sends a personal message to Liverpool FC, asking them to get to the top of the first division before Sheila can give birth to their first child (she has been "holding on to it for about a week.") His team obliged by beating QPR 2-0 at Anfield the following day.
1976
28 December 1976: FF #26 Deep Purple, 'Child In Time (LP–Deep Purple In Rock)' (Harvest) (JP: 'Wake up Pig, it's time to go home....Not sure how that got in there, but it did.')
1978
1979
24 July 1979: Jackson Browne track dedicated to Sheila, as it's a favourite of hers and she hasn't been feeling well.
26 November 1979: Plug for the Festive 50, read by the Pig.
10 December 1979: JP: "Actually, the Pig and I met Esther Rantzen once. Very early one Monday morning when she was doing 'Start The Week'. She was breathtakingly rude to both of us. Been a favourite of ours ever since."
1980
08 January 1980: JP: "This next one's for The Pig... currently expecting child 'C' at the end of the month. Very exciting, very tense you know... will it be Dalglish? You'll just have to wait and see." Madness: My Girl (7" single) Stiff Records
16 July 1980: Peel has a reply to his question about whether any bands come from Shipley (the home of The Pig) in the form of a letter from a band called Heaven Seventeen "..best of good fortune to them.." This would not have been THE Heaven 17 who were from Sheffield and formed in late 1980/early 1981 after The Human League split. The name was first used by Anthony Burgess in his novel "A Clockwork Orange" as the name of a fictitious pop group.
27 October 1980: As a birthday treat, Peel had taken Sheila to Anfield over the weekend to watch Liverpool v Arsenal. Afterwards they had met Kenny Dalglish.
1981
09 March 1981: (JP: 'I had to leave home earlier this evening drive away from the mountain fastness of Peel Acres with the flood waters lapping at the door but this is the price you have to pay if you are in show business… so this is for the pig who is stuck there probably by now the flood waters are up to the second storey.')
05 September 1981: Forest: Graveyard ("the only band who lived with, and off, myself and the Pig that I actually liked") (LP: Full Circle, Harvest)
1982
23 February 1982: Peel reveals he and Walters shared a table at a TV event with "one of my favourite bands" - and he gave the singer a kiss and a cuddle (after asking permission). Says he felt like her dad. Later says that Sheila has just called him a "silly cow" on the phone - the reason is not explained.
14 October 1982 (TOTP): On his radio show that night John Peel announced of that evening's appearance "If you were watching Top Of The Pops, the Pig chose that jumper for me. I thought I looked kinda cuddly myself, but er, I won't take a vote on it."
30 November 1982: A Flock Of Seagulls: Talking (7") Cocteau Twins (JP: "How well I remember when the Pig and I, and indeed Bill Nelson, saw them playing at a pub outside Leeds somewhere. These days of course they play at football stadiums in America full of dreadful people who yelp and howl as the bands play and light matches and things when they finish...")
1983
16 February 1983 (BFBS): Peel reveals that Sheila does not like the Alan Vega track, which he agrees with.
22 August 1983: Peel mentions that the Pig rang up to say that he was in a children's comic called the Bunty.
13 September 1983: JP: "The Pig always really rather dreads our winning the pools, which is unlikely to happen. We've budgeted for it already, of course. But she knows perfectly well that if we did win I should spend most of the money on recording bands. I mean, I'd really like to have a record by 3D, I must say."
1984
03 April 1984: Peel mentions taking photos of the Pig with road signs next to her.
17 December 1984: (JP: 'This is for the Pig, one of our all-time favourite records.') Keith Hudson: Nuh Skin Up (format?) Greensleeves Records
1985
1986
1987
1988
1989
1990
24 January 1990: Peel mentions Mischa, a Russian man, who he and the Pig met in Moscow, Russia in 1988, will be coming to Peel Acres this weekend. In honour of him, Peel plays a track called 'The Russians Are Coming' by Val Bennett.
1991
1992
1993
1994
14 January 1994: (JP ..and this is C6H12O6.and The Pig who used to teach chemistry tells me that's glucose.) Skinned Teen: 'C6H12O6' (Peel Session)
05 February 1994 (BFBS): N-Trance: Turn Up The Power (12") All Around The World. John prefers his dance music without words but this was the version Sheila liked to dance to...
1995
1996
1997
1998
1999
2000
2001
2002
2003
2004
January 2004 (FSK): Peel mentions that when his wife Sheila comes in the room, he always makes a mess with the DJ links.
See Also
External Links