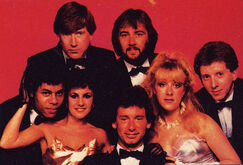 Shakatak are an English jazz-funk band, founded in 1980. They had their first UK Top 20 single in 1981 with 'Easier Said than Done' followed by a string of hits in the early part of the decade. Albums also sold well, their most successful being 1982's Nightbirds. In the 1990s, the group had success in the US when two albums went to No 1 in the contemporary jazz charts. In Japan they were also awarded the Grammy for best international instrumental album six years running. The group continue to perform and record.
Read more on Wikipedia.
Links to Peel
Peel had presumably known group founder member Bill Sharpe since he had worked as a studio manager for the BBC for six years before forming the band, hence when introducing Shakatak for the first time on Top of the Pops he states"..with my mate Bill Sharpe on the keyboards..Shakatak!". Introducing them as the final act on a show presented in April 1982 he says "...the fellow in the dreadful shirt ids my mate Bill Sharpe", and again refers to him as "my mate Bill Sharpe wearing yet another truly hideous shirt" when presenting the group with their latest hit in July 1984. Both Peel and Sharpe appeared on the same edition of Round Table shortly after that on 03 August 1984. Sharpe also recorded material with former session artist Gary Numan in the latter part of the 80s.
Shows played
03:35

Shakatak – Down On The Street (TOTP)

TOTP
External links
Ad blocker interference detected!
Wikia is a free-to-use site that makes money from advertising. We have a modified experience for viewers using ad blockers

Wikia is not accessible if you've made further modifications. Remove the custom ad blocker rule(s) and the page will load as expected.