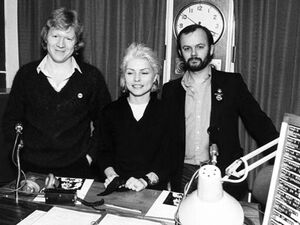 Round Table
is a long-running weekly singles review programme broadcast on BBC Radio. For most of its history, the show was broadcast on
BBC Radio One
in the early evening of every Friday. The format of the programme would typically see two guests discussing the week's new releases with the host DJ.
Programme History
The Radio Times Genome indicates that Round Table began on Radio One in October 1970 with the host Emperor Rosko [1]. It was intially known as "Rosko's Roundtable", and Rosko presented the programme until 17 September 1976 when he left the station [2]. Note that John Walters produced the show for a year from 6 October 1972 [3] until 28 September 1973 [4].
The programme was revived in April 1978 [5] with Kid Jensen at the helm on Friday evenings [1]. Jensen presented the show until his departure from Radio One in May 1980, whereupon Paul Gambaccini took temporary charge [6]. Adrian Love took over hosting duties from 5 September 1980 [7] until the end of the year. Mike Read began his first stint as presenter of the show on 2 January 1981 [8], remaining in the post until Richard Skinner began a long stretch as host on 9 October 1981 [9]. John Walters returned to produce Roundtable again from 1 July 1983 - 27 September 1985. The final episode with Skinner presenting was broadcast on 27 September 1985 [10] before it took a break from the schedules.
In May 1986 the show made a return, rebranded as "Singled Out" with Janice Long installed as host [11]. Mike Read returned as the presenter in October 1987 [12] and held the position until March 1990 [13]. The programme continued for a further few months with Richard Skinner back in the chair, although in a new Wednesday evening slot, before the series came to an end on 27 June 1990 [14]. The following week, from 6 July 1990, "Round Table" was resurrected [2] with Mike Read once more hosting [15]. Read relinquished the role on 27 September 1991 [16], with Jakki Brambles taking over the following week [17]. Brambles' stint lasted six months before Round Table came to an end after the episode broadcast on 6 March 1992 [18].
In May 1994 the format was revived on Radio One with a more humorous approach in the shape of 'Collins and Maconie's Hit Parade' [19]. This series ran for three years, ending in June 1997 [20]. [3]
In April 2003 Round Table returned on BBC 6 Music, presented by Andrew Collins on a Friday evening [4]. Since 2005 the programme has been a fixture of Steve Lamacq's 6 Music programme on Thursday evenings.
Links To Peel
According to Robert Chapman's Selling the Sixties (p. 274) Peel's first appearance on Round Table as a guest reviewer was alongside Noel Edmonds on an early edition of the programme, and this was "consciously promoted as the meeting of two worlds". But despite a few "controversial observations" from Edmonds, Peel "refused to rise to the bait, finding merit in everything and offering a tolerant counterpoint to the mock provocation which was positively encouraged by Round Table's fomat".
In addition, Peel is known to have been a guest reviewer on the following episodes (with presenter stated):
(Please add other appearances, if known)
Mentioned In Shows
External Links
Footnotes