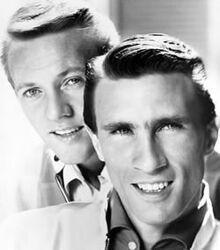 The Righteous Brothers were the American musical duo of Bobby Hatfield and Bill Medley. They began performing together in 1962 in the Los Angeles area as part of a five-member group called The Paramours, but adopted the name "The Righteous Brothers" when they embarked on their recording career as a duo. They recorded from 1963 through 1975 and continued to perform until Hatfield's death in 2003. Their emotive vocal style is sometimes dubbed "blue-eyed soul".
Hatfield and Medley have contrasting vocal range that helped them create a distinctive sound as a duet, but also strong vocal talent individually that allowed them to perform as soloists. Medley sang the low parts with his bass-baritone voice, with Hatfield taking the higher register vocals with his countertenor voice.
They had their first hit with the 1964 song "You've Lost That Lovin' Feelin'", produced by Phil Spector and often considered one of his finest works. Other notable hits include "Ebb Tide", "Soul and Inspiration", "Rock and Roll Heaven", and in particular, "Unchained Melody". Both Hatfield and Medley also had for a time their own solo careers.
Links To Peel
The Righteous Brothers had their biggest hits in the years when Peel was living in the USA, and it is likely that their records were on the playlists of the stations he worked for. However he is not known to have played anything by the duo in the early period of his BBC career.
On his 02 June 1980 show, Peel played the duo's track 'Try To Find Another Man,' after one from the Riotous Brothers, who had a similar name but whose punk music was completely different from the soul of the Righteous Brothers. After Hatfield's death, Peel paid tribute by playing 'Try To Find Another Man' on his 06 November 2003 show.
Shows Played
1980
1998
2003
Covered
(The list below was compiled only from the Cover Versions page of this site. Please add more information if known.)
Artist | Track | First Known Play
External Links
Ad blocker interference detected!
Wikia is a free-to-use site that makes money from advertising. We have a modified experience for viewers using ad blockers

Wikia is not accessible if you've made further modifications. Remove the custom ad blocker rule(s) and the page will load as expected.