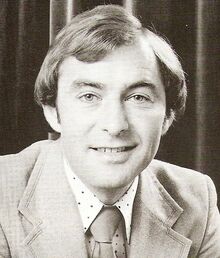 Raymond (Ray) Moore (2 January 1942 – 11 January 1989) was a British broadcaster who started broadcasting during the 1960s as a continuity announcer with Granada Television, later moving to ATV in Birmingham and eventually the BBC in Manchester and London. At the BBC he worked as an announcer on radio and television, providing voice-overs for a number of popular shows such as Come Dancing, Miss World and the radio commentary for the Eurovision Song Contest, also presenting the Eurovision Song Contest Previews in 1987. From 1980 to 1988 he hosted the early morning show on BBC Radio 2.
Links To Peel
Peel greatly admired Ray Moore's broadcasting style and Liverpudlian humour, and in 1987 met Ray at the Eurovision Song Contest in Brussels, Belgium. In the Olivetti Chronicles he describes how Ray offended the Turkish representative on Radio 2 by passing comment on the villainous character of their appearance. Peel made notes about Ray when he was drafting ideas for his autobiography, reproduced as an appendix to Margrave of the Marshes. Peel wrote:
"Trips to Eurovision Song Contests in Brussels-return to Heysel and hilarious meeting with King and Queen of Belgium in small party including the late Ray Moore leading to reflections on the really great broadcasters Moore, Lyttelton, Clayton, Arlott..."
External Links