Pop Quiz was a weekly quiz show which had its original run on BBC One from 1981 to 1984. The show has been revived several times, most recently in two specials on BBC Four in December 2016 and January 2017. The original show and some revival episodes were hosted by Radio 1 DJ Mike Read . The format consisted of two three member teams, each led by one captain, answering questions on pop and rock music. Guests competitors from the world of music and television changed weekly although sometimes the captains remained for longer runs. Read more on wikipedia
Links to Peel
John Peel participated once in the show, broadcast on 1981-07-11. Together with singer Mike Berry, his team captain was Rick Wakeman while his opponents were Billie Currie of Ultravox, Clem Burke of Blondie and Tim Rice (captain).
There are no known clips of Peel's appearance on the show although a clip of the opposing team concerning a question on David Bowie posed to the opposing team is available. Peel can be seen seated far right in the opening shot.
Video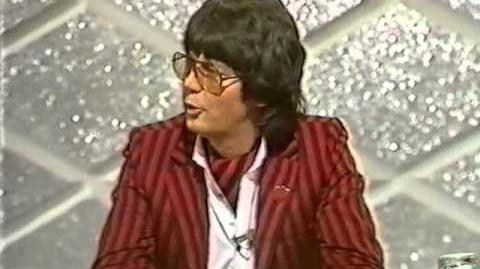 External links
Ad blocker interference detected!
Wikia is a free-to-use site that makes money from advertising. We have a modified experience for viewers using ad blockers

Wikia is not accessible if you've made further modifications. Remove the custom ad blocker rule(s) and the page will load as expected.