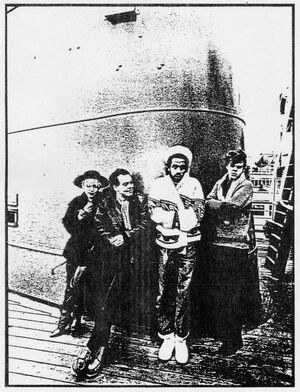 Pink Military
was led by singer Jayne Casey from defunct Liverpool post-punk legends
Big In Japan
and originally known as Pink Military Stand Alone. Released a couple of experimental and dub-influenced EPs before an album of more conventional material that seemed to get lost in the shuffle and has still never been released on CD. Eventually morphed into the more dance-orientated
Pink Industry
.
Festive Fifty Entries
Sessions
Two sessions. No commercial release. Dates for shows marked #2 repeats taken from Ken Garner's The Peel Sessions and may be #1 repeats.
1. Recorded: 1979-11-14. First broadcast: 26 November 1979. Repeated: 15 January 1980, 07 October 1986
Wild West / Did You See Her? / Stand Alone 
2. Recorded: 1980-05-27. First broadcast: 05 June 1980. Repeated: 02 July 1980, 24 July 1980
Everyday / Pilgrim Forest / Dance Of The Waning Moon 
Other Shows Played
1979
1980
(Please add any missing info)
External Links
Ad blocker interference detected!
Wikia is a free-to-use site that makes money from advertising. We have a modified experience for viewers using ad blockers

Wikia is not accessible if you've made further modifications. Remove the custom ad blocker rule(s) and the page will load as expected.