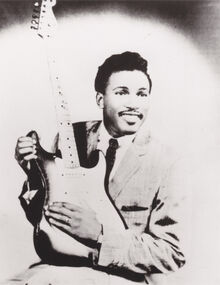 Otis Rush Jr. (April 29, 1935 – September 29, 2018) was an American blues guitarist and singer-songwriter. His distinctive guitar style featured a slow-burning sound and long bent notes. With qualities similar to the styles of other 1950s artists Magic Sam and Buddy Guy, his sound became known as West Side Chicago blues and was an influence on many musicians, including Michael Bloomfield, Peter Green and Eric Clapton.
Rush was left-handed and strummed with his left hand while fretting with his right. However, his guitars were strung with the low E string at the bottom, in reverse or upside-down to typical guitarists. He often played with the little finger of his pick hand curled under the low E for positioning. It is widely believed that this contributed to his distinctive sound. He had a wide-ranging, powerful tenor voice.
Links to Peel
Otis Rush was one of the leading black blues artists active at the time of the 1960s blues boom, and he influenced many white blues musicians, including the major names mentioned above. Peel played several tracks by the bluesman on his shows throughout every decade from the 1960s until the 2000s, starting with a play of "I Can't Quit You, Baby" on the Perfumed Garden in the summer of 1967. The DJ also featured cover versions of Rush's material, including recordings of "Double Trouble" by both John Mayall's Bluesbreakers (1967) and Eric Clapton (1976).
Otis Rush was also admired by Elvis Costello, who included his song "It Takes Time", (previously covered by Rory Gallagher) in his sets of the early 1980s and selected Rush's original recording for a CD of favourite tracks compiled for Mojo magazine in 2015[1].
Shows Played
1970
1983
1998
2000
External Links