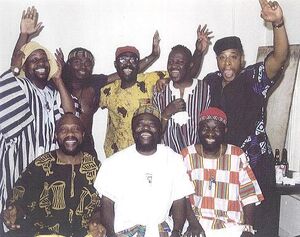 Osibisa
is a British Afro-pop band, founded in London in 1969 by four expatriate African and three Caribbean musicians. Osibisa were one of the first African bands to become widely popular. The name
Osibisa
was described by the band members as meaning
"criss cross rhythms that explode with happiness"
but it actually comes from
"osibisaba"
the Fante word for
high life
. Their style influenced many of the emerging African musicians of the time. (
read more at Wikipedia
)
Links To Peel
Osibisa were first signed to MCA and it seems that the label sent Peel a record of Osibisa, which he liked himself. The group were probably one of the earliest African records Peel played on his show and continued playing them through out his life.
Festive Fifty Entries
Sessions
Three sessions. No known commercial release of sessions.
1. Recorded: 1970-07-27. First broadcast: 01 August 1970. Repeated: 10 October 1970, 26 December 1970
Ayko Ba / Music For The Gong Gong / Black Ant
2. Recorded: 1971-06-14. First broadcast: 10 July 1971. Repeated: ?
Oranges / Phallus C / Woyaya
3. Recorded: 1972-01-4. First broadcast: 11 January 1972. Repeated: 22 February 1972
Survival / Woyaya / Akwaba
Other Shows Played
06:01

Meditation

1972
1975
Other
External Links
Ad blocker interference detected!
Wikia is a free-to-use site that makes money from advertising. We have a modified experience for viewers using ad blockers

Wikia is not accessible if you've made further modifications. Remove the custom ad blocker rule(s) and the page will load as expected.