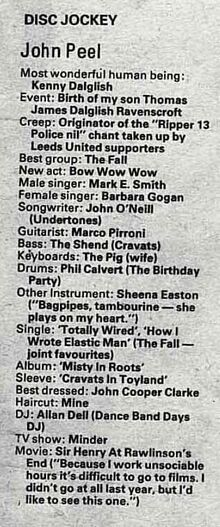 The New Musical Express is a weekly British music publication launched in 1952. Unlike former competitors such as Melody Maker and Sounds, the NME survives today, although only online. After moving away from the "inky" newspaper format of earlier years to become more of a glossy magazine, it became a freesheet in September 2015. The final print edition appeared in March 2018.
It became the leading pop weekly in the 1970s, succeeding Melody Maker by changing its approach. At the time, Pete Frame wrote:
Amusing to see that the New Musical Express have undergone a very peculiar transfiguration from teenybop to progressive heavy, man. The older guys seem to have stepped into the shadows and left it to a new, young, forceful breed of journalists to explore areas of progressive music; good for laughs. (Zigzag 24, early 1972, no page number)
Despite this mockery, the new NME recruits, who included future celebrity rock journalists Nick Kent, Charles Shaar Murray (both of whom had written for underground papers) and Ian Macdonald, brought a more critical and irreverent tone to the paper, which contrasted with the earnestness of much Melody Maker writing and helped pave the way for the arrival of punk. After 1976 NME was the pop paper most sympathetic to Peel's tastes and remained so until the mid-1990s.
While Peel never wrote a regular column for NME, as he did for Disc & Music Echo and Sounds, he was frequently mentioned in its pages, and wrote occasional pieces, such a review of the publication's Ruby Trax 40th anniversary release in the 1992-10-10 issue.
Covers
According to a Wikipedia list of covers dating back to 1969, Peel appeared on the NME front page four times. In August 2015, the magazine selected the Peel tribute cover of November 2004 as one of its 50 Greatest Covers.[1]
18 Aug. 1979

Feature by Paul Morley

09 Sept. 1989

50th birthday

06 Nov. 2004

Following death

15 Oct. 2005

One year after death
Awards
According to rocklistmusc.co.uk, Peel or his programme won the NME Pop Poll/Readers Poll every year from 1972 to 1993, with the exceptions of 1974 (Noel Edmonds), 1983 (not known) and 1985 (not known).[2]
In 1994, Peel picked up NME's "Godlike Genius Award". At the NME awards in 2005 he was named "Hero Of The Year" and posthumously given a special award for "Lifelong Service To Music". The same event saw the introduction of the "John Peel Award For Musical Innovation".[3] [4]
Awards In Detail
Mixed Peel
In 1987, the NME hooked up with Strange Fruit to release a Peel sessions compilation cassette, Mixed Peel.
See Others
Links