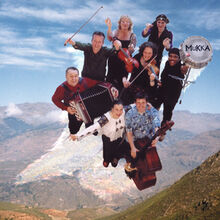 Mukka are a UK based World Music live band combining elements of Gypsy, Klezmer, Eastern European and Middle-Eastern music. The band brings together eminent musicians from the former Yugoslavia, Russia and Romania, with UK talent from Scottish, Celtic and Jazz backgrounds, and features violins, accordion, flute, traditional percussion and a modern rhythm section. The group's vocalist is Dana Codorean-Berciu, a Romanian singer who has been based in the UK since 1991. There is very little information on the internet whether the group still exists till this day.
Links To Peel
John Peel once described them as 'the sensation of Glastonbury' after seeing them perform at Glastonbury in 2000. So impressed, he invited the group to do a session for his show. After a few years, the group seemed to have disappeared in Peel's playlists, possibly because they released only 3 records in a short period, one of them was a Peel Session release that was only available from their record label address with the others.
Sessions
1. Recorded: 2000-10-08. Broadcast: 19 October 2000
Hora In Doua Parti / Hora Veche / Hicaz / Lung Li Druml / Gankino
Other Shows Played
2000
2001
External Links
Ad blocker interference detected!
Wikia is a free-to-use site that makes money from advertising. We have a modified experience for viewers using ad blockers

Wikia is not accessible if you've made further modifications. Remove the custom ad blocker rule(s) and the page will load as expected.