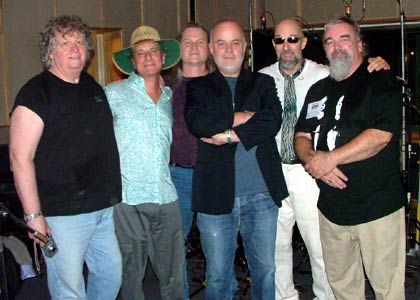 The Magic Band
are a reformed version of
Captain Beefheart
's backing band. The Magic Band reformed in 2003 with John French on drums, lead vocals and harmonica, Gary Lucas and Denny Walley on guitars, Rockette Morton on bass, and Robert Williams on drums for the vocal numbers. The initial impetus came from Matt Groening who wanted them to play at the All Tomorrows Parties festival he was curating. For their subsequent European tour, Williams left and was replaced by Michael Traylor. They toured the UK in 2005, playing a selection of small venues. They played over 30 shows throughout Europe, and one in the United States. The group disbanded in 2006 but reformed in 2011 to play at All Tomorrow's Parties that November (at Minehead, England), with Lucas and Traylor replaced by Eric Klerks and Craig Bunch respectively. The Magic Band still continues to tour to this day.
Links To Peel
John Peel was initially skeptical about the re-formed Magic Band. He played a live recording of the band recorded at the 2003 All Tomorrow's Parties festival on his radio show; afterwards he couldn't speak and had to put on another record to regain his composure. Later the band did a live session for him.
Festive Fifty Entries
Sessions
One session. No known commercial release.
1. Live from Maida Vale: 2004-07-07. First broadcast 07 July 2004. Repeated: None
Diddy Wah Diddy / Circumstances / Hit A Man / Bass Solo / Unknown / Steel Softly Though Sunshine / Abba Zaba / My Human Gets Me Blues / Alice In Blunderland / Hair Pie: Bake 4 / Evening Bell / Electricity / The Floppy Boot Stomp / Mirror Man / Moonlight In Vermont / Big Eyed Beans From Venus
Live
Live from the All Tomorrow's Parties Festival. Recorded: 2003-04-06. Broadcast: 29 April 2003
My Human Gets Me Blues
Abba Zaba
Hair Pie Bake II
Steal Softly Through Snow
On Tomorrow
Alice in Blunderland
I Wanna Find Me A Woman That'll Hold My Big Toe Till I Have to Go 
Other Shows Played
2003
2004
See Also
External Links
Ad blocker interference detected!
Wikia is a free-to-use site that makes money from advertising. We have a modified experience for viewers using ad blockers

Wikia is not accessible if you've made further modifications. Remove the custom ad blocker rule(s) and the page will load as expected.