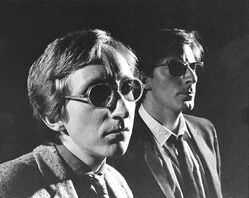 The Korgis were a British New Wave pop band formed in 1978 by songwriting partners Andy Davis and James Warren. Both had formerly been members of the folk-rock group Stackridge, active since the early 70s. The Korgis had an international pop hit in 1980 with the ballad "Everybody's Got to Learn Sometime". The group, however, like their commercial success, was short lived and they disbanded within less than year. Various reunions have taken place since 1990. Warren and Davis organized a tour of the UK in 2015 under the name of The Korgis and using exactly the same 5-piece line-up as Stackridge. The re-formed Stackridge have also included some Korgis songs in their live set and vice versa. The Korgis have cited John Lennon as a major influence in their songwriting and sound. (read more on The Korgis' official site)
Links to Peel
Stackridge had done seven sessions for Peel before splitting up, so understandably the DJ showed an interest in the later activities of the band members. As well as Warren and Davis, The Korgis included violinist Stuart Gordon, who had played on a 1972 Peel session by the Incredible String Band and also on the band's LP Earthspan (reportedly he turned down an offer to become a permanent ISB member because he didn't share the band's commitment to scientology).
Peel started playing their debut single 'Young 'N' Russian' shortly before its official release in February 1979 after first hearing the record on the Andy Peebles show. He immediately followed this first play with 'Anyone For Tennis' a 1972 song by Stackridge. Peel also played the B-side of the Korgis' single although interest in the group's output does not seem to have gone beyond that.
Sessions
Shows played
External links
Ad blocker interference detected!
Wikia is a free-to-use site that makes money from advertising. We have a modified experience for viewers using ad blockers

Wikia is not accessible if you've made further modifications. Remove the custom ad blocker rule(s) and the page will load as expected.