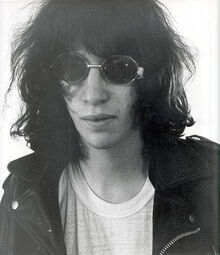 Jeffrey Ross Hyman (May 19, 1951 – April 15, 2001), best known by his stage name Joey Ramone, was an American musician and singer-songwriter, best known as the lead vocalist of the punk rock band the Ramones. Joey Ramone's image, voice, and tenure as frontman of the Ramones made him a countercultural icon. Hyman was a fan of The Beatles, The Who, David Bowie, and The Stooges among other bands (particularly oldies and the Phil Spector-produced "girl groups"). His idol was Pete Townshend of The Who (with whom he shared a birthday). Hyman took up drums at 13, and played throughout his teen years. Before he joined the Ramones, he was the singer in a band called Sniper. (read more on wikipedia)
Links To Peel
Peel was a fan of the Ramones and from their first play on his show in 1976, changed his playlist to incorporate more of the band's punk influenced sounds. After the band split in 1996, Peel took little interest in the solo pursuits of the group's former members. He did play a track from Joey Ramone's debut solo LP, "Don't Worry About Me", which was released posthumously in 2002, a year after the singer's death. "Much, much better than I imagined it was going to be, to be honest with you" was his opinion of "Stop Thinking About It" when he played it on his show in early 2002.
Shows Played
2002
External Links
Ad blocker interference detected!
Wikia is a free-to-use site that makes money from advertising. We have a modified experience for viewers using ad blockers

Wikia is not accessible if you've made further modifications. Remove the custom ad blocker rule(s) and the page will load as expected.