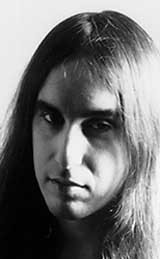 J Mascis (Joseph Donald Mascis, Jr.; December 10, 1965) is an American musician, best known as the singer, guitarist and main songwriter for the alternative rock band Dinosaur Jr.. He has also released several albums as a solo artist and played drums and guitar on other projects. He was ranked number 86 in a Rolling Stone list of the "100 Greatest Guitarists", and number 5 in a similar list for Spin magazine in 2012.
Links To Peel
Peel was generally a fan of Dinosaur Jr. and followed J Mascis's music when he initially disbanded the band in 1998 and formed the J Mascis + The Fog group. During their first European tour in 2000, J Mascis + The Fog participated in a John Peel session for BBC Radio 1, during which the band recorded a medley consisting of Teenage Fanclub's "Everything Flows", Pavement's "Range Life", and The Ruts' "In a Rut", that was broadcast on 19 December 2000, to celebrate 25 years of the Festive Fifty.
Sessions
All sessions are available on The John Peel Sessions (2003, CD, Strange Fruit)
1. Recorded: 2000-12-13. Broadcast: 10 January 2001. Repeated: 03 May 2001
Same Day / Ammaring / Waistin / I'm Not Fine
2. Recorded: 2002-11-20. Broadcast: 28 November 2002. Repeated: 03 April 2003
I Feel Like Going Home / Alone / Everybody Lets Me Down / Freakscene
Other Shows Played
2000
2002
2003
Post-Peel
External Links
Ad blocker interference detected!
Wikia is a free-to-use site that makes money from advertising. We have a modified experience for viewers using ad blockers

Wikia is not accessible if you've made further modifications. Remove the custom ad blocker rule(s) and the page will load as expected.