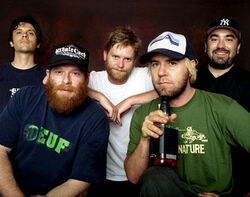 Grandaddy is an American indie rock band from Modesto, California, formed in 1992. The band consists of Jason Lytle (vocals, guitar, keyboards), Aaron Burtch (drums), Jim Fairchild (guitar) and Tim Dryden (keyboards). Kevin Garcia, who was a founding member and played bass for the band from the age of 15, suffered a "massive stroke" on May 1, 2017, and died the following day, aged 41.
After several self-released records and cassettes, the band signed to Will Records in the US and later the V2 subsidiary Big Cat Records in the UK, going on to sign an exclusive deal with V2. The bulk of the band's recorded output was the work of Lytle, who worked primarily in home studios. The band released four studio albums before splitting in 2006, with band members going on to solo careers and other projects. Grandaddy reformed in 2012 and have since made a number of live appearances. In 2016, the band announced its fifth studio album, Last Place, which was released in March 2017.
Links To Peel
Peel mentioned on his March 1998 (FSK) show that he first heard Grandaddy's single Everything Beautiful Is Far Away and liked it so much, that he checked out their album Under The Western Freeway from where the single came from and was impressed by that, that he wished he had first heard the album when it was released in 1997. The band later did a session for Peel's show in May 1998, that was broadcast a month later.
Festive Fifty Entries
Sessions
1. Recorded: 1998-05-17. Broadcast: 16 June 1998
Hawaiian Island Wranglers / I'm In Love With No One / Street Bunny / Volvo In G
Other Shows Played
03:32

Grandaddy - Summer Here Kids

1998
24 February 1998: Collective Dreamwish Of Upperclass Elegance (LP: Under The Western Freeway) Will
04:04

Grandaddy - The Crystal Lake

2000
01 August 2000: MGM Grand (With Xanadu Finale) (split 7" with John Wayne Shot Me) Ines Boukov
21 December 2000: Alan Parsons In A Winter Wonderland (Compilation CD-It's A Cool Cool Christmas) Jeepster
26 December 2000: 'The Crystal Lake (CD-The Sophtware Slump)' (V2) FF #50
External Links
Ad blocker interference detected!
Wikia is a free-to-use site that makes money from advertising. We have a modified experience for viewers using ad blockers

Wikia is not accessible if you've made further modifications. Remove the custom ad blocker rule(s) and the page will load as expected.