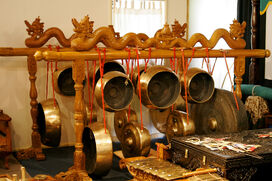 Gong Gede, meaning "large gongs" in the Balinese language, is a form of the ceremonial gamelan music of Bali, Indonesia dating from the court society of the fifteenth and sixteenth centuries, associated historically with public ceremonies and special occasions such as temple festivals. Usually performed by a temple orchestra of over forty musicians, music written for the gong gede is sedate and graceful, following an andante tempo. It fluctuates in cycles, one fast, one slow, one loud, and one soft. The beat is provided by the largest gong.
Links To Peel
Peel played track from Gong Gede on his Night Ride shows in the late 60's, which later became part of John Peel's Archive Things album released in 1970.
Shows Played
13:00

Gamelan. Bali- Music for the Gong Gede.

Oleg Tambulilingan (Dance Of Bees) (Dates not currently available)
External Links
Ad blocker interference detected!
Wikia is a free-to-use site that makes money from advertising. We have a modified experience for viewers using ad blockers

Wikia is not accessible if you've made further modifications. Remove the custom ad blocker rule(s) and the page will load as expected.