In addition to the gigs listed below, Peel was also the regular presenter of a BBC concert show until the end of the year (see 1971 Concert Shows for more details).

Unknown dates (1970 or 1971)
Manor House Ballroom, Ipswich: John Peel Roadshow[1] [3]
Talk Of The Town, London: Jackson 5 media showcase[2]
Unknown venue (Polytechnic or folk club in Hampstead): Loudon Wainwright III[3]

Nag's Head, Wollaston, Northants: Peel had regular Friday night gigs at the venue for around a year from spring 1970. [4]
Everyman Theatre, Liverpool; concert in support of Music Liberation Front, organised by Mike Evans (possibly in October 1971)[4]
Jan
1 Blisworth, Blissworth Hotel: Audience [5]
March
6 43 King Street, Covent Garden (The Old Middle Earth), "Oz Police Ball - A Gala Benefit For The Oz Obscenity Trial": "A star-studded all nighter starting at 8.30 with: Arthur Brown's Kingdom Come/Viv Stanshall's Seanhead Showband/Gene Vincent's Houseshakers/Pink Fairies/Egg/Third World War/Gnidrolog and John Peel holding it together." [6]
14 Roundhouse, London: Rolling Stones [7]
26 Locarno, Sunderland: Mott The Hoople, Medicine Head [8]
30 Portsmouth, Tricorn Club: Audience [9]
April
29 CND Festival Of Life, Alexandra Palace, London: John Peel, Royal Court Theatre, Gay Liberation Street Theatre, Kevin Ayers And The Whole World, others [10][5]
May
9 Roundhouse, BIT Benefit: Funkadelic, Little Free Rock, National Head Band, Good Habit, Zoo, Zoot Money [11]
June
1 (or 23 Aug. 1971) Talk Of The Town, London: Lovelace Watkins[6]
22-28 Glastonbury Fayre: Melanie, Quintessence, Edgar Broughton Band, Pink Fairies, Terry Reid with David Lyndley and Linda Lewis, Gong, David Bowie, Hawkwind, Arthur Brown, Brinsley Schwarz, Fairport Convention, Family, Traffic [12] [13] [7]
July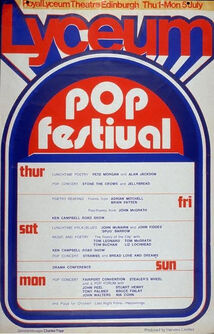 5 Lyceum Theatre Edinburgh: A weekend long Pop Festival, final night concert featuring Fairport Convention, Stealer's Wheel and a 'pop forum'. The forum consisted of John Peel, John Walters, Tony Palmer, Stuart Henry, Nik Cohn, Bruce Findlay
24 Royal Albert Hall: Liverpool Philharmonic Orchestra, conductor Charles Groves, pianist Radu Lupu. [8] Prom concert 02. [14] Programme:
Sibelius: Symphony No. 6
Grieg: Piano Concerto in A minor
Bernard Naylor: Scenes & Prophecies
Elgar: Enigma Variations
Dec
7 Hobbit's Garden, Wimbledon: Genesis, Roxy Music, Gravy Train [15][9]
References