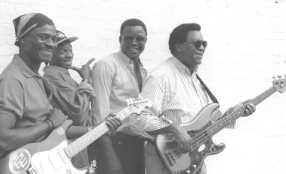 The Four Brothers
were formed in
Zimbabwe
(then Rhodesia) in 1977 by Marshall Munhumumwe (drums, lead vocals), Never Mutare (bass, vocals), Aleck Chipaika (guitar, vocals) and Edward Zulu (guitar), playing a form of music called 'Jit' (sometimes called Harare Beat) characterised by fast guitar riffs and rapid fire drumming. Zulu was replaced by Frank Sibanda in 1986.
Links to Peel
The Four Brothers played for Peel at his surprise 50th birthday party at Peel Acres:
"When the Four Brothers had finished, John said wistfully that he wished they could play at his birthday party. And they did. I arranged for them to perform in our garden, and even as John was entering the marquee on his fiftieth birthday, he had no idea which band he would find there." "But when John set eyes on the Four Brothers in the marquee, he was completely surprised, as well as speechless." (Margrave Of The Marshes, p.339, Bantam Press, 2005)
The track 'Pasi Pano Pane Zviedzo' was chosen by Peel for his Desert Island Discs selection, transmitted by BBC Radio 4 on 14 January 1990. In 1997 Peel included the album Makorokoto in his top 20 album list published in The Guardian newspaper. Peel is often quoted as describing The Four Brothers as "the best live band in the world".
Festive Fifty Entries
Sessions
Four sessions. On 04 May 1989, Peel also repeated an Andy Kershaw session by the band (first broadcast, 1988-08-25).
1. Recorded: 1988-09-11. First broadcast: 26 September 1988. Repeated: 26 October 1988, 15 November 1988, 28 December 1988, 04 May 1989. Issued on Strange Fruit SFPS070
Rugare/Uchandifunga/Vimbayi/Pahukama
2. Recorded: 1989-05-23. First broadcast: 05 June 1989. Repeated: 11 July 1989, 26 December 1989
Rudo Chete/Pasi Pano Pane Zvidzo/Wakazvarwa Seyi/Ngatipindukewo
3. Recorded: 1994-10-27. First broadcast: 09 December 1994. Repeated: 29 July 1995
Wachiveiko/Tsvaga Hunhu/Takabva Neko/Mbereko Yakaramba
4. Recorded: 2000-09-06. First broadcast: 28 September 2000.
Vamwene/Ndibvubamire/Regai Nditaure/Ndateterera
Other Shows Played
1983
1988
1989
1990
1991
1992
1993
1994
1995
1996
1997
02 April 1997: Vimbayi (CD-Hits Of The Four Brothers Volume 2 ) (Gramma Records)
08 April 1997: Siya Zviriko (CD - The Hits Of the Four Brothers Volume 2) Zimbabwe
1999
2003
13 March 2003: 'Pasi Pano Pane Zviedzo' (LP-Makorokoto) Cooking Vinyl
Others
See Also
External Links