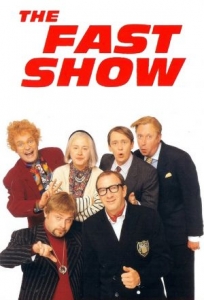 "The funniest thing on TV by a mile." (23 December 1995 (BFBS))
The Fast Show
was a comedy sketch programme broadcast on BBC2 between 1994 and 1997, with a one-off special,
The Last Fast Show Ever
in 2000 (a total of 23 episodes). It was created by comedian Paul Whitehouse, who had appeared alongside Harry Enfield (see also
Smashie And Nicey: The End Of An Era
) and Charlie Higson, previously a member of the
Higsons
, who recorded five Peel sessions and were frequently played by JP (a memorable role for him in the show was as one of the 'Suits You' tailors). The cast of the show also featured Arabella Weir and Caroline Aherne, the latter subsequently finding further fame as Mrs. Merton and as the co-creator of
The Royle Family
, and who was at the time married to Peter Hook of
New Order
(being billed in the show under her married name). Whitehouse and Higson tried initially to sell the idea of an MTV-generation sketch show to ITV before being picked up by Michael Jackson, the new controller of BBC2. Each show featured a large number of short items, most relying heavily on repeated catchphrases from the frequently unnamed characters and none lasting more than three minutes. Peel praised the show constantly
[1]
, citing in particular the Chanel 9 sketches (which portrayed a low-budget TV station with presenters who spoke in a made-up language containing elements of Greek, Portuguese and Spanish, and Aherne as a weather girl who seemed surprised that the temperature of the weather was always 45 degrees: "Scorchio!"), and Paul Whitehouse's dated and unfunny music hall comedian
Arthur Atkinson (reminiscent of Arthur Askey), whom Peel regarded as more documentary of that era than spoof when playing a contemporary
Pig's Big 78
.
[2]
He also referenced the show's catchphrases (for example,
01 March 1996
). John amassed a collection of VHS recordings of the first series, and according to Paul Whitehouse, wrote about the show in his
Radio Times
column in praise of it, until Paul called him and embarrasedly asked him to stop (possibly an apocryphal story told for comic effect). Whitehouse was subsequently invited as a guest on
This Is Your Life
, whence comes the aforementioned anecdote. Although another series and a film was mooted, it appears the show has run its course: a spin-off based on the Swiss Toni character ran for two series. All programmes have been released on DVD, and a number of complete shows can be viewed on YouTube.
In 2001, Weir and Peel were guests on the Radio 4 programme A Good Read.
Links
Footnotes
↑ For example, 05 November 1994 (BFBS)
↑ See 04 December 2002.
Ad blocker interference detected!
Wikia is a free-to-use site that makes money from advertising. We have a modified experience for viewers using ad blockers

Wikia is not accessible if you've made further modifications. Remove the custom ad blocker rule(s) and the page will load as expected.