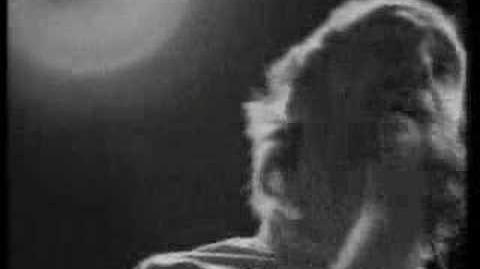 Family were an English rock band, formed in Leicester in 1966. They came to London in 1967 and gained a contract with Reprise Records, for whom they recorded a series of albums before splitting up in 1973. Family were one of the most accomplished, popular and critically acclaimed bands to come out of the 1967-68 London "underground" scene, gigging regularly on the British club and college circuit and enjoying some commercial success, but unlike many of their contemporaries they never managed to win a large audience in the United States.
A fuller account of Family's career can be found at Wikipedia.
Links to Peel
Family were among Peel's favourite late 1960s artists and his affection for them remained, long after he had lost interest in most of the music he had played in that era. He seemed to see them as down-to-earth provincials, free from the London underground trendiness and snobbery which so dismayed him. They gained a reputation by gigging in London during 1967, and did their first Top Gear session in November of that year. Peel previewed their first single in his International Times column of 5 October 1967 ("There is a nice record forthcoming from the Family (A Tony Hall Enterprise)..."[1]), attended the launch party for their debut single at the trendy London nightclub Sybilla's on 1 November 1967 (pictures here and here) and became a staunch supporter of the band. One of his wishes for 1969, expressed in his column in the I January 1969 issue of International Times, was "May the Family appear on Television" [2] - and indeed they appeared on How Late It Is later that year.
Peel expressed a liking for singers with what he described as "extreme voices". Family's lead singer Roger Chapman could be placed in this category, with his throaty, sometimes harsh voice and an odd, bleating vibrato which at times sounded as if he was gargling.
As Sheila Ravenscroft recalls in Margrave Of The Marshes (p.286), Roger Chapman was one of the guests at Peel's wedding.
After Family split up, Chapman and Charlie Whitney formed Chapman-Whitney Streetwalkers (later known simply as Streetwalkers), who did four sessions for Peel, between 1974 and 1977.
Festive Fifty Entries
Peelenium
Sessions
Nine sessions. "Second Generation Woman", "Dim" and "Observations From A Hill" from session #4, session #5 except for "Bring it on Home", and all of session #6 available on BBC Radio Volume 1 1968 – 69 , first two tracks of session #7 available on  BBC Radio Volume 3 1970 , and sessions #8 and #9 available on BBC Radio Volume 2 1971 – 73 .
1. Recorded: 1967-11-20. First Broadcast: 26 November 1967 (presented by Peel and Tommy Vance). Repeated: 24 December 1967 (presented by Peel and Vance). 
Peace Of Mind / Scene Through The Eye Of A Lens / Voyage / The Breeze / Winter
2. Recorded: 1968-04-16. First Broadcast: 21 April 1968. Repeated: 26 May 1968.
See Through Windows / Hey Mr. Policeman / 3 X Time / Old Songs New Songs
3. Recorded: 1968-07-29. First Broadcast: 04 August 1968. Repeated: 15 September 1968.
Processions / The Weaver's Answer / Me My Friend / 3 X Time / The Breeze (first broadcast 15 September 1968)
4. Recorded: 1968-11-11. First Broadcast: 24 November 1968. Repeated: 05 January 1969.
Dim / Second Generation Woman / How-Hi-The-Li / Observations From A Hill / Hometown (first broadcast 05 January 1969)
5. Recorded: 1969-03-11. First Broadcast: 30 March 1969 Repeated: 27 April 1969.
Love In A Sleeper / I Sung 'Em The Way I Feel / Bring It On Home / A Song For Me
6. Recorded: 1969-07-28. First Broadcast: 03 August 1969. Repeated: 01 November 1969, 22 September 1975 (penultimate Top Gear).
Drowned In Wine / Wheels / No Mule's Fool / The Cat And The Rat
7. Recorded: 1970-08-10. First Broadcast: 05 September 1970. Repeated 05 December 1970.
Holding The Compass / Lives And Ladies / Good News - Bad News
8. Recorded: 1971-07-02. First Broadcast: 17 July 1971.
Save Some For Thee / Burning Bridges / In My Own Time / Seasons
9. Recorded: 1973-05-08. First Broadcast: 22 May 1973. Repeated 31 July 1973.
Buffet Tea For Two / Boom Bang / Check Out
Live
04 January 1970: Recorded 1970-01-01. First Peel concert show. Singer Roger Chapman was hit by flu, so the band were forced to reduce the length of their set and Tyrannosaurus Rex were added to the bill. Available BBC Radio, Vol. 3 1970.
93's OK J
Here Comes The Grin
Good News - Bad News
Drowned In Wine
Wheels
Processions/No Mule's Fool
Holding The Compass
Lives And Ladies
Strange Band
The Weaver's Answer
Blow By Blow
Good News - Bad News
Spanish Tide
Part of the Load
Drowned in Wine
Holding The Compass
Between Blue and Me
Children
In My Own Time
Take Your Partners
The Weaver's Answer
Other Shows Played
(The following list was compiled only from the database of this site and is incomplete. Please add more information if known.)
1967
29 October 1967: Scene Through The Eye Of A Lens (7" - Scene Through The Eye Of A Lens / Gypsy Woman) Liberty
1969
1970
1972
1973
1975
1976
1977
03 October 1977: Burlesque (single) Reprise (10 years of Peel on R1, listeners choice)
04 October 1977: My Friend The Sun (LP - Bandstand) Reprise (10 years of Peel on R1, listeners choice)
1978
1980
1981
1988
1992
1993
1994
1996
1997
1999
2004
See Also
External Links