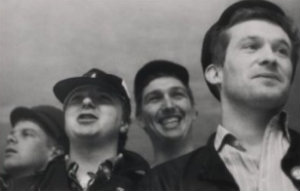 Eton Crop were an indie band formed in 1979 in Nieuwkoop, Netherlands, and released a total of 12 singles and four albums over the next 15 years. Frequent visitors to the UK, they toured with many of the "pre-C86" groups like The Membranes and The Three Johns, the latter with whom they shared a not too dissimilar musical approach. While many groups from that era downed tools towards the end of the decade, Eton Crop battled on into the mid-nineties, their last full length album, Get Real!, appearing (on cd) in 1992, eventually bowing out in 1994 with the 4 track ep Everybody. The band later changed their name to the E.C. Groove Society and started producing techno music until 2003. Recently the band reformed under Eton Crop and performed in Stockton, County Durham, UK at the Peel Regenerated Festival in 2014.
Links To Peel
The band recorded five sessions for Peel in the space of five years and on his Radio Bremen show from 1991 on Peel 002 (Radio Bremen), he stated that this was his favourite Dutch band:
"And this is just about my favourite Dutch band and they have been for quite some time. I mean to be honest with you, couple of them are mates of mine anyway, which probably colour my judgement."
Erwin Blom vocalist of Eton Crop paid tribute to Peel after his death on an interview with music website Louder Than War, when he mentioned how Peel influenced him:[1]
"John Peel taught me openness. Talking about punk these days seems limited to talking about 4 to the floor guitars. And there's nothing wrong with that of course. Love it. But thinking back to the days of punk, thanks to Peelie I'm reminded of the weird funk of The Pop Group, the uplifting ska of The Specials, the dark electro of Cabaret Voltaire and the fucked up poetry of John Cooper Clarke. The musical diversity and freedom of punk and what came after, combined with the search for the new and the fresh, influenced me big time. John Peel combined the old with the new. He also introduced me to the music of the fifties as well as to new hip hop and house. He extended my world of music with sounds from all over – from England to Germany, from America to Africa."
On the same article Blom stated how the sessions with the band helped him:
"We ended up doing 5 John Peel Sessions. Not only was that an honour, it was also quite lucrative. Thanks to the Musicians Union, we were getting paid, and paid very well, judged by our standards. Every time we were broadcast extra money came in for every musician that had taken part. So we got local friends to do backing vocals to get paid extra and to be able to tour the UK – to tour with The Fall (25 pounds for a support act, not bad! ;-), to play with The Nightingales, The Three Johns and The Membranes. And to travel everywhere from Birmingham to Leeds to Norwich, the home base of our friends at Grunt Grunt A Go Go that released our album It's My Dog, Maestro!"
Sessions
The third session is available on
The Peel Sessions
(1988, Strange Fruit, Vinyl)
1. Recorded: 1983-11-09. Broadcast: 15 November 1983. Repeated: 30 November 1983, 22 December 1983
Gay Boys On The Battlefield / Boring Isms / Explain / He Didn't Say Anything
2. Recorded: 1984-11-13. Broadcast: 20 November 1984. Repeated: 12 December 1984, 09 January 1985
Snobhill / Boy Meets Tractor / Get Something For Doing Nothing / Quality In The Grooves
3. Recorded: 1985-10-01. Broadcast: 14 October 1985. Repeated: 30 October 1985
Cocacolanization / It's My Dog Maestro / You Won't Get Me Out In The Rain / Harry Nelson Pillsbury
4. Recorded: 1986-10-19. Broadcast: 19 November 1986. Repeated: 10 December 1986, 23 February 1988
A Bundle For A Dead Dog / Jolly Adventures With Janus Mcmanus / Banana Battle / Paraffin Brain
5. Recorded: 1988-05-29. Broadcast: 08 June 1988. Repeated: Session Mixtape Mar-Sept 1988
A Jolly Cheerful Crowd / Pavel Morozov The Bastard! / Beating The Sicilian / Trivialities
Other Shows Played
1983
1984
1985
03 December 1985: Boy Meets Tractor (LP - It's My Dog, Maestro) Grunt Grunt A Go Go
1986
1987
1988
1989
1991
1992
1993
1999
2000
11 January 2000: 'Moshpit (CD-Adrenalin Shots)' (My First Sonny Weissmuller Recordings) (under the name of E.C. Groove Society)
2002
15 January 2002: On his way to see the Bays, Peel had bumped into their old friend Erwin from Eton Crop coming back from their gig. There is a chat with him about the group, whose performance Peel missed.
2004
04 March 2004: (JP mentioning Erwin and Leonieke of Eton Crop have come for a visit and their children sleeping in a room above the studio.)
External Links