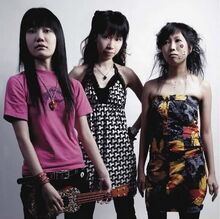 Dzap Dau Dau (拾豆豆) (translated as Pick Up The Beans) are an all female Chinese band from Hong Kong, China, influenced by Bikini Kill and Sleater-Kinney. The group consists of Meg Fung Kit-man, on guitars and vocals, her sister Fung Po-man, on bass, and childhood friend Myth Li Shuk-yee, on drums and vocals. They've been playing in this incarnation since early 2000, after the original 1996 lineup, under the name M2R, split. Li and Meg Fung were left standing and enlisted Po Fung to cement the trio. There hasn't been much information since the mid 00's whether the band are still together or not.
Links To Peel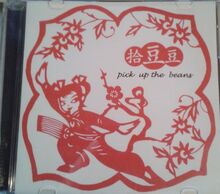 Peel played a track from the band on his 04 October 2001 show and thought they were from Singapore, but after the song, corrected his mistake by stating they were from Hong Kong. Also Peel noticed that the cover of the band's EP, Pick Up The Beans, was almost identical to Rechenzentrum's The John Peel Session LP, which featured a Chinese animation.
Shows Played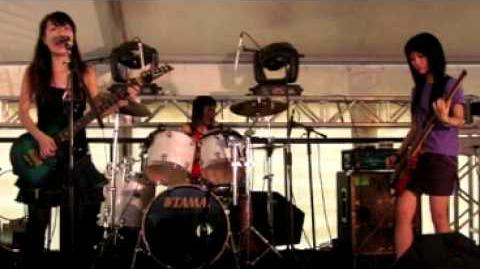 2001
External Links
Ad blocker interference detected!
Wikia is a free-to-use site that makes money from advertising. We have a modified experience for viewers using ad blockers

Wikia is not accessible if you've made further modifications. Remove the custom ad blocker rule(s) and the page will load as expected.