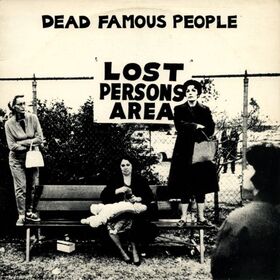 Dead Famous People are a female New Zealand indie pop band formed in Auckland, active from the latter half of the 1980s onward. The band formed in 1986 and comprised Donna Savage (vocals), Elizabeth (Biddy) Leyland (keyboards and vocals), Wendy Kjestrup (guitar and vocals), Jenny Renals (bass guitar) and Robyn Tearle (drums).[1] After a couple of releases in New Zealand, including an EP on Flying Nun Records, giving them some success in their homeland, they relocated to London, where they signed for Billy Bragg's Utility Records label, with Gill Moon replacing Tearle. Utility issued the band's Arriving Late in Torn and Filthy Jeans mini-LP in 1989, and it became the label's biggest-selling release. The band split up in mid-1990. Savage continues with the Dead Famous People name, with various collaborators, and another album, Secret Girls Business, was issued in 2002, featuring six previously unreleased tracks.... (From Wikipedia)
Links to Peel
Dead Famous People received regular airplay from Peel (although scant confirmation of this is currently available) and recorded a session for him in 1989, which has never been made available commercially but can be heard on YouTube [1], [2], [3].
Festive Fifty Entries
None

02:45

Dead Famous People - Barlow's House
Sessions
One session, unavailable commercially. It featured only three tracks as opposed to the customary four.
1. Recorded: 1989-06-11. First broadcast: 05 July 1989. Repeated: 10 August 1989
Postcard From Paradise / How To Be Kind / Go Home Stay Home
Other Shows Played
10 July 1989: 'Barlow's House (LP-Arriving Late In Torn And Filthy Jeans)' (Utility)
15 September 1991: 'With Wings We'll Soar The Heavens (LP-All Hail The Daffodil)' (La-Di-Da)
External Links
Ad blocker interference detected!
Wikia is a free-to-use site that makes money from advertising. We have a modified experience for viewers using ad blockers

Wikia is not accessible if you've made further modifications. Remove the custom ad blocker rule(s) and the page will load as expected.