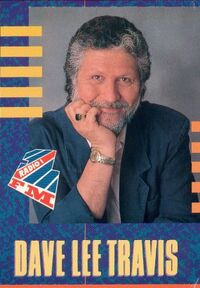 Dave Lee Travis
is a British radio broadcaster who was a colleague of
John Peel
at Radio One from
1968
to
1993
and at BBC World Service from
1978
to
1999
. He was investigated on charges of indecent assault, along with many other high profile media personalities, as part of Operation Yewtree in 2012: he narrowly escaped prison as a result.
Relationship with John Peel
Many of the DJs of the era were extremely flamboyant and actively sought as much media coverage as they could get. JP clearly had little respect for many of his colleagues for such behaviour, with Dave Lee Travis being among his least favourite. He nicknamed him on occasion 'Dicky Lee Torpid', referring in at least one show to Travis taking off records mid play [1]. Like Peel, Travis had started his DJ career on a pirate ship, Radio Caroline, in 1965; unlike him, he resigned on-air in 1993 due to his disagreement with Matthew Bannister's changes.
Peel: And that's the end of tonight's programme: the Fall and that was called Futures And Pasts, and our pasts have been the Buzzcocks and the Fall, and our futures are the Yachts. (chuckles) I only put that in there at the end of the programme so I could do that: pretty clever, eh? I thought (so), anyway. You can make up your own mind about it, of course: a thought like that would have blown Dave Lee Travis' brains out. (Long pause while sig plays) Just kidding, Dave, just kidding. Have you ever seen the size of him? Keeps wanting to show me. [3]
Peel: (after playing 'I Married A Monster From Outer Space' by John Cooper Clarke): ...and was DLT the result of their loathsome union? [4]
Peel: A jolly good show... was also the title of a programme which Dave Lee Travis amongst others used to introduce on the BBC World Service and which I used to occasionally hear... The first time he did one I was listening to it and he took over from Noel Edmonds and he started his programme with something along the lines of, "this is the hairy cornflake from up the M6 in Manchester." And I thought, there are going to be people sitting somewhere out in the back of beyond in Kenya or somewhere with a herd of goats, listening to this and thinking, "we're supposed to be the backward ones." [5]
Peel on his 16 February 1992 (BFBS) show tried to give free copies of Dave Lee Travis photograph book called 'Bit Of A Star' in the hope that listeners would write in for the show.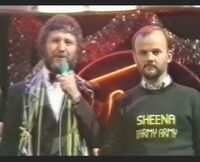 Dave Lee Travis appeared as a co-host with Peel in occasional, multi-DJ episodes of
Top of the Pops
during the 1980s. They never appeared as joint hosts, which was not surprising given Peel's thinly-veiled dislike for his colleague.
DLT : Listen John, come on, jazz it up man, it's Christmas Day, let's have a little "Hey hey!"
Peel : Er, welcome to TOTP.
DLT : Oh, that was wonderful, John…[6]
Links
Ad blocker interference detected!
Wikia is a free-to-use site that makes money from advertising. We have a modified experience for viewers using ad blockers

Wikia is not accessible if you've made further modifications. Remove the custom ad blocker rule(s) and the page will load as expected.