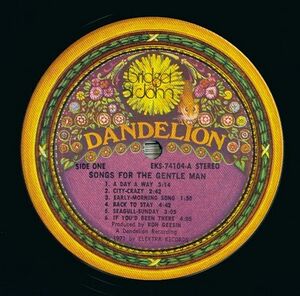 "The half-witted, idealistic notion behind Dandelion and our other violent, capitalist enterprise, Biscuit Music, is that any profits, if such there be, should go to the artists, not to Clive nor myself. We want to record people whose songs and poems we like and whom we like as people. At the moment this means Bridget St. John, Beau, (Beau Who?), Principal Edwards Magic Theatre and the Occasional Word Ensemble. If people like their records, and I honestly can't think of any reason why they shouldn't, then we'll be able to record a host of other people you've probably never heard of either."
(John Peel, Dandelion Records launch ad, International Times, 1969-07-18)
"We were the first 'hippie' label."
(Clive Selwood, All The Moves (But None Of The Licks), p. 110)
Overview
Dandelion Records was a British record label started in 1969 by John Peel as a way to get the music he liked onto record. Peel was a "sort of artistic director" (Margrave p. 135) with no financial involvement, allowing him to play Dandelion artists on his BBC show, while business matters were handled by his manager and long-time friend Clive Selwood and Selwood's wife, Shurley. Both the label and its sister publishing company, Biscuit, were named after Peel's hamsters.
Among the albums released by Dandelion was one by an ageing Gene Vincent, with a cast of musicians including members of The Byrds and Steppenwolf. Others were by younger or non-commercial artists, including Beau, Bridget St John, Medicine Head, Clifford T. Ward, David Bedford, Lol Coxhill, Stackwaddy, Tractor, Kevin Coyne/Siren, and Denmark's Burnin' Red Ivanhoe.
The label's only record ever to make the UK charts was the single "(And the) Pictures in the Sky" by Medicine Head, which reached No. 22 in 1971. Beau's "1917 Revolution" made No. 1 in the Lebanon in 1969. Had Dandelion not failed to sign Roxy Music that same year, the story might well have been different. According to Peel, other prospects who ended up elsewhere included Black Sabbath.
Dandelion Records were distributed in the UK by, successively, CBS, Warner Bros., and Polydor. The label ran until 1973, when it started to try and place its artists with other labels as its distribution via Polydor had ceased. It had issued about a dozen singles and two dozen albums. Several releases attracted a cult audience but never quite crossed into the mainstream, although one of the last singles, Clifford T. Ward's 'Coathanger', from his debut album 'Singer Songwriter', attracted a certain amount of airplay on Radio 1. Both Tractor and Medicine Head appeared fairly high in various album charts - Medicine Head would go on to appear on Top Of The Pops and Tractor would get heavily involved in the hippy festival circuit which they still make rare appearances on to this day. As Peel himself told Record Collector in 1994, 'when you can't afford full-page ads in the music press, artists become very resentful...there's no faster way of losing friends.'
The label's final album release was a sampler, There Is Some Fun Going Forward, whose sleeve featured a photo of Peel in the bath with a naked (or at least visibly topless) woman.
Most Dandelion album recordings have been reissued on vinyl and/or CD, initially a batch of half a dozen came out on CD on Repertoire in the early 1990s, followed by the whole catalogue as two on one CDs by See For Miles Records in the mid 1990s. The Dandelion Records by Tractor and The Way We Live were reissued in the 2000s by Ozit Morpheus Records. As well as the Tractor CDs in current circulation on Ozit Morpheus, some of the Dandelion catalogue has now started to appear on Cherry Red Records.
In 2006, Cherry Red released a CD box set, Life Too, Has Surface Noise - The Complete Dandelion Records Singles Collection 1969-1972, bringing together the label's 7" releases. Several Dandelion 45s had featured in the TV documentary John Peel's Record Box. A six-hour DVD about John Peel and some of the artists on Dandelion Records was released as a tribute to John in November 2008. It includes a contribution from his wife, Sheila Ravenscroft.
Discography
Albums
Singles
John Peel's Record Box
The following Dandelion singles were found in John Peel's Record Box.
See also
External links