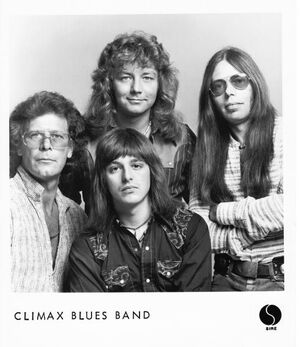 Climax Blues Band
(originally known as the Climax Chicago Blues Band) was formed in Stafford, England in 1968. The original members were guitarists Peter Haycock and Derek Holt; keyboardist Arthur Wood; bassist Richard Jones; drummer George Newsome; and vocalist and harmonica player, Colin Cooper. In 1970, the group shortened its name to the Climax Blues Band due to pressure from the American band, Chicago Transit Authority. The band has released at least seventeen albums and had a Top 10 hit in the UK with "Couldn't Get It Right" ... (
read more at Wkipedia
)
Links To Peel
Peel often played tracks from the band on his show, and was especially fond of their "Sense of Direction", calling it the band's "finest hour" when he played it in 1975. Like many groups of the era, they began as a blues band but moved into a more rock-based sound, and were popular in the US at the time they did their three mid-1970s Peel sessions. However, their style was very much "old wave" rock, which may account for the fact that they did not appear in Peel playlists and recorded no more sessions for Peel's shows after 1976.
Festive Fifty Entries
Sessions
1. Recorded: 1974-09-26. First Broadcast: 17 October 1974. Repeated: 14 November 1974
Before You Reach The Grave / Reaching Out / Amerita/Sense Of Direction* / Milwaukee Truck Song Blues
2. Recorded: 1975-09-09. First Broadcast: 02 October 1975. Repeated: 20 November 1975
Devil Knows / I Am Constant* / Running Out Of Time* / Using The Power
3. Recorded: 1976-09-16. First Broadcast: 08 October 1976. Repeated: 30 November 1976, 24 December 1976
Couldn't Get It Right* / Chasin' Change / Together And Free* / Mighty Fire
Other Shows Played
(Please add any missing info)
External Links
Notes
↑

This release also includes three tracks denoted as 'John Peel 18/09/74')
Ad blocker interference detected!
Wikia is a free-to-use site that makes money from advertising. We have a modified experience for viewers using ad blockers

Wikia is not accessible if you've made further modifications. Remove the custom ad blocker rule(s) and the page will load as expected.