Ad blocker interference detected!
Wikia is a free-to-use site that makes money from advertising. We have a modified experience for viewers using ad blockers

Wikia is not accessible if you've made further modifications. Remove the custom ad blocker rule(s) and the page will load as expected.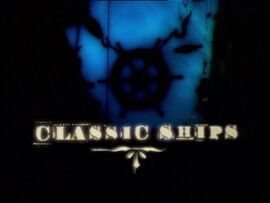 Classic Ships
was a six-part Channel 4 series narrated by Peel: he had already narrated the previous year's
Classic Trucks
and was to host
Classic Trains
,
Classic Plant
,
Classic Homes
and
Classic British Cars
in later years.
[1]
The programme invariably went out between 8.30-9.00 p.m. on Monday nights.
The synopsis the BFI gives to the first episode imparts a fair idea of what is in store for the viewer:
Following on from the CLASSIC series which looked at cars, motorbikes and trucks, this series on ships starts with the first royal yacht Britannia, launched in 1893, whose design gave birth to a host of revolutionary techniques and achievements and set the benchmark for a future generation of 'big boats' which flourished during the inter-war years. Includes the resurrected Bembridge Redwings and the 120-ft Candida. [2]
Episode List
Britannia Rules (TX 1996-01-29)
Fish And Ships (TX 1996-02-05)
Lazy Days (TX 1996-02-12)
The Go-Betweens (TX 1996-02-19)
Rough Trade (TX 1996-02-26)
Flat Out (TX 1996-03-04)
Availability
Links