Broadcast Date
14 April 1995, Part Two. Not shared to avoid duplication with already available show on www.30242.net.
Cassette Brand / Description
TDK.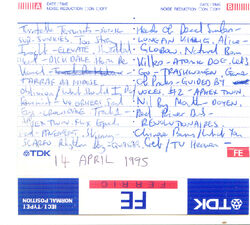 Length
Description
Quality
Very good mono recording.
Ripper
n/a (but copy made by SIG for tape's owner, CB)
Date Sent
2008-09-06
Date Returned
2009-01-25
Notes
Aphex Twin and Voorhees in session.
Ad blocker interference detected!
Wikia is a free-to-use site that makes money from advertising. We have a modified experience for viewers using ad blockers

Wikia is not accessible if you've made further modifications. Remove the custom ad blocker rule(s) and the page will load as expected.