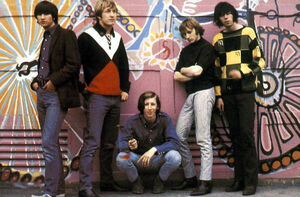 Buffalo Springfield was an American-Canadian rock band formed in 1966, whose members included Richie Furay, Stephen Stills, Neil Young, Dewey Martin, Bruce Palmer, Jim Messina, Ken Koblun, and Jim Fielder, and which combined rock, folk, and country music. The band released the classic 1960s protest song "For What It's Worth." The band was plagued by infighting, drug-related arrests, and line-up changes that led to its disbanding after two years. Three albums were released under its name, but many demos, studio outtakes, and live recordings remained and were issued in the decades that followed. They were inducted into the Rock and Roll Hall of Fame in 1997. (Read more at Wikipedia)
Links to Peel
Peel introduced an early gig by Buffalo Springfield in April 1966, when he was working as John Ravencroft on the San Bernardino radio station KMEN. Later he recalled that he talked to the band and found them friendly and likeable, unlike the Byrds, who headlined the concert. He enjoyed a chat with Neil Young, who surprised him by remaining silent when they met during the singer's visit to London in 1970.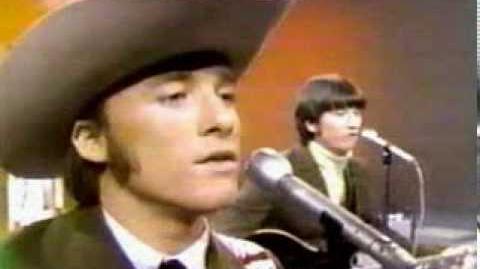 Their best-known song, "For What It's Worth", was about the Sunset Strip riots of 1966, centred on the Pandora's Box club which Peel sometimes visited. He also mentioned the riots in an editorial for the Kmentertainer. According to that publication, the Springfield also appeared at the Swing Auditorium, San Bernardino in February 1967, during Peel's final weeks at the station, before he left to return to Britain, so it is possible that he might have attended (or introduced) the gig.
Back in the UK, Peel continued to play Buffalo Springfield tracks on his shows for Radio London and the BBC. In March 1968 he recommended Buffalo Springfield Again, the band's second LP, to the readers of his International Times column[1]. The band never visited Britain during their short lifespan, but their records were popular with fans of West Coast music and were reissued in the UK after they had split up. Peel wrote the sleevenotes (see link below) to a 1970 budget-price compilation of their work, and described his meeting with them at the San Bernardino gig mentioned above. He also mentions the bands formed subsequently by ex-members of Buffalo Springfield, including Crosby, Stills, Nash and Young and Poco, as well as the early solo work of Neil Young. The DJ included many tracks by bands which were led by, or included, Buffalo Springfield alumni Young, Stephen Stills and Riche Furay in his 1970s playlists, but it was Neil Young who became a lasting Peel favourite. In 1999 he included Young's song "Expecting To Fly", from the Buffalo Springfield Again album, in the Peelenium for 1968.
Shows Played
This listing may well be incomplete because of a lack of available tracklistings from the late 1960s and early 1970s. Please add further details if known.
(Please add any missing info)
See Also
External Links
Ad blocker interference detected!
Wikia is a free-to-use site that makes money from advertising. We have a modified experience for viewers using ad blockers

Wikia is not accessible if you've made further modifications. Remove the custom ad blocker rule(s) and the page will load as expected.