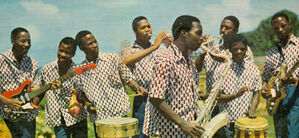 Bembeya Jazz National (originally known as Orchestre de Beyla) is a Guinean jazz group that gained fame in the 1960s for their Afropop rhythms. They are considered one of the most significant bands in Guinean music. Many of their recordings are based on traditional folk music in the country and have been fused with jazz and Afropop style. Featuring guitarist Sekou "Diamond Fingers" Diabaté, who grew up in a traditional griot musical family, the band won over fans in Conakry, Guinea's capital city, during the heady days of that country's newfound independence. Bembeya Jazz fell onto harder times in the 1980s and disbanded for a number of years, but reformed in the late 1990s and toured Europe and North America in the early 2000s.
Links To Peel
Peel saw the group perform in the African Centre, Covent Garden during the summer of 1987 and wrote a review of their performance in the Observer[1](later re-published on Olivetti Chronicles), where he described their music as 'impudently erotic'. He also was disappointed in the article with the small turnout, but mentioned that 'those in attendance were not down-hearted'. Sekou Bembeya Diabate, the guitarist of the band was according to Peel's article on the Observer, known to admirers as Diamond Fingers and was adjudged Africa's best guitarist in 1977.
Shows Played
1987
14 July 1987: Sukabe (LP - Bembeya Jazz National) Disques Esperance
22 July 1987: Koumba Tenin (LP - Bembeya Jazz National) Disques Espérance
External Links
Footnotes
↑ Published according to Olivetti Chronicles on 26th July 1987.