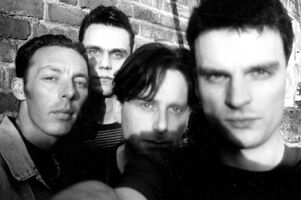 BOB (sometimes spelt as Bob) were an English indie band formed in North London in 1986 by Richard Blackborow, Simon Armstrong and Jem Morris during the C86 scene. Initially, they used a drum machine, before bringing in Gary Connors on drum duties. Connors was replaced, after just one official release, by ex-Jamie Wednesday drummer, Dean Leggett. Stephen Hersom (ex-The Caretaker Race) was drafted in on bass, to replace Morris. The group in 1992 lost their Rough Trade distribution after it's collapsed and disbanded in 1995.
Links To Peel
The band gave a copy of their first release, a flexi-disc called Prune (Your Tree) to John Peel when they encountered him in the Rough Trade record shop. Peel was impressed with the band's material that he invited the group three times to do a session for his show, which they did. The group's Convenience track entered at number 31 in Peel's annual Festive Fifty in 1989.
Festive Fifty Entries
Sessions
1. Recorded: 1988-01-07. Broadcast: 18 January 1988. Repeated: 03 February 1988
Esmerelda Brooklyn / Kirsty / Trousercide / Brian Wilson's Bed
2. Recorded: 1989-02-05. Broadcast: 15 February 1989. Repeated: 04 April 1989
Who You Are / Scarecrow / It Was Kevin / So Far So Good
3. Recorded: 1989-09-03. Broadcast: 25 September 1989. Repeated: 16 November 1989
Extension 'Bob' Please (Instrumental) / Throw Away The Key / Bloodline / Wild West 9
Other Shows Played
02:23

BOB - Piggery

1987
1988
1989
1991
External Links
Ad blocker interference detected!
Wikia is a free-to-use site that makes money from advertising. We have a modified experience for viewers using ad blockers

Wikia is not accessible if you've made further modifications. Remove the custom ad blocker rule(s) and the page will load as expected.