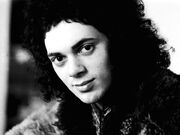 Andrew McLan "Andy" Fraser
(3 July 1952 – 16 March 2015) was an English songwriter and bass guitarist whose career lasted over forty years and includes a notable period as one of the founding members of the rock band
Free
in 1968, at age 15. (
Read more at Wikipedia
)
Links To Peel
Free was one of the bands Peel championed during his early broadcast days and, until their demise in 1973, he featured their music extensively during his programmes. For this reason, he seemed to be interested in Fraser's first solo released projects in 1975 and the bassist was booked for a session. However, shortly after that, Frarser's solo career took a standstill until 1984 and, since Peel was moving on other grounds at the time, he was not featured again on his shows.
Andy Fraser sometimes also collaborated with Peel favorite Eno.
Sessions
One session. No known commercial release.
1. Recorded: 1975-04-10. First broadcast: 17 April 1975. Repeated: 12 June 1975
Love Train / Bring it On Home / Ain't Gonna Worry / Don't Hide Your Love Away
Also, three sessions as a member of Free.
Other Shows Played
(The list below was compiled only from the database of this site and Lorcan's Tracklistings Archive. Please add further information if known.)
See Also
External Links
Ad blocker interference detected!
Wikia is a free-to-use site that makes money from advertising. We have a modified experience for viewers using ad blockers

Wikia is not accessible if you've made further modifications. Remove the custom ad blocker rule(s) and the page will load as expected.