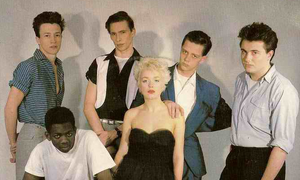 Allez Allez was a short lived Belgian funk band from Brussels, Belgium founded in 1981 and disbanded in 1985. On the verge of success in 1981, funky Belgian new wave band Marine lost their singer Marc Marine, who quit. Quickly replaced by American singer Sarah Osborne of Repetition, they changed their name to Allez Allez.
The group had local hits with "She's Stirring Up", "Allez Allez" and "African Queen", the latter a tribute to Grace Jones. Their mini-album "African Queen" achieved gold status and earned them an appearance at the Torhout-Werchter festival in 1982. The band then signed with major label Virgin and released the polished pop album "Promises" in November 1982, though Osborne subsequently left the group and married Glenn Gregory of Heaven 17. American singer Jackie Irwin replaced Osborne, but still mainstream success eluded the band.
Marc Marine later changes his name to Marc Du Marais and formed La Muerte to make music in the tradition of The Birthday Party, the Stooges and garage rock music.
Links To Peel
Under the previous name of Marine, Peel invited the act to perform a session for his show in August 1981, however singer Marc Marine whilst in London to record the session decided to quit. The band immediately replaced him with singer Sarah Osborne, who was at the time singer of Repetion, who also did a Peel session early in the month.
Marine changed their name to Allez Allez, before recording the session and the band started to get regularly played by Peel in the early 80's. Former member Marc Marine later formed La Muerte, who performed a session for Peel's show in 1986. Allez Allez are considered the first Belgian act to perform a session for Peel's show.
Sessions
1. Recorded: 1981-08-29. Broadcast: 08 September 1981. Repeated: 29 September 1981
Turn Up The Meter / Papa Was / Stripped Portrait
Other Shows Played
1982
External Links