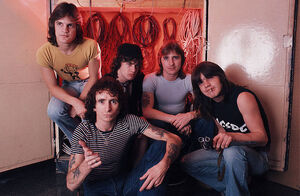 AC/DC are an Australian hard rock band, formed in November 1973 by brothers Malcolm and Angus Young, who have remained constant members. Commonly referred to as a hard rock or blues rock band, they are also considered pioneers of heavy metal and are sometimes classified as such, though they have always dubbed their music as simply "rock and roll". To date they are one of the highest-grossing bands of all time. AC/DC underwent several line-up changes before releasing their first album, High Voltage, on 17 February 1975. Membership subsequently stabilised until bassist Mark Evans was replaced by Cliff Williams in 1977 for the album Powerage. Within months of recording the album Highway to Hell, lead singer and co-songwriter Bon Scott died on 19 February 1980 after a night of heavy alcohol consumption. The group briefly considered disbanding, but buoyed by support from Scott's parents, decided to continue and set about finding a new vocalist. Ex-Geordie singer Brian Johnson was auditioned and selected to replace Scott. Later that year, the band released the new album, Back in Black, which was made as a tribute to Bon Scott. The album launched them to new heights of success and became their all time best-seller, selling over 10,000 copies a day in its first week. (read more on wikipedia)
Links To Peel
AC/DC arrived in the UK in April 1976 and toured throughout the UK. Not long later Peel picked up on them and they were invited to record a session for the programme. Although he rarely played any of AC/DC's material during punk's heyday and beyond, in the A section of his record collection Peel did keep copies of both the Australian and international versions of their debut album, High Voltage, including original press shot and tour poster, as well their Live From The Atlantic Studios LP.
A reason for the lack of airplay on the John Peel show is perhaps explained by a comment the DJ made to Mary Anne Hobbs on 22 February 2000, upon hearing that his colleague was to play tracks from group's new LP in her own show:
"They once had me thrown off stage at a pop festival that I was compering. I've never forgiven them for that. So, to hell with them, frankly." [1]
Sessions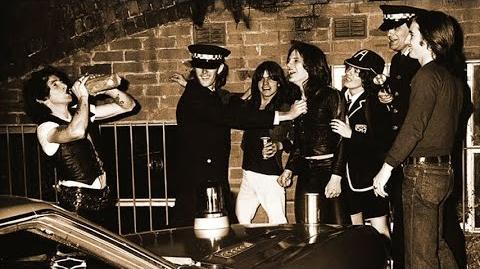 1. Recorded: 1976-06-03. Broadcast: 21 June 1976. Repeated: 27 July 1976
Live Wire / High Voltage / Can I Sit Next To You? / Little Lover
Top Of The Pops
External Links
Footnotes