Show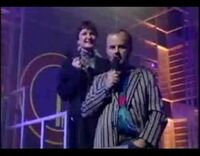 Name
Station
YYYY-MM-DD
Comments
That's Simple Minds with the most exciting video I've seen since (looks at watch) well, since teatime. Mind you, I had a late tea!
At No.12 it's Nick Kamen, building a career based on laundry, "Each Time You Break My Heart".
Just when you thought pop music was getting really boring and predictable, along came Bon Jovi!
Tracklisting
Video