Show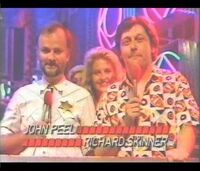 Name
Station
YYYY-MM-DD
Comments
Tossing and turning: two things I do inordinately well... Windjammer.
At 23 it's Trevor Walters 'no relation'...
RS: Did you know Laura Branigan could have been an Olympic standard swimmer? JP: As bad as that eh?
RS: And would you believe after nine weeks they're still at no.1! JP: Is this going to be this year's Christmas big hit? Frankie Goes to Hollywood!
Tracklisting
Video
Ad blocker interference detected!
Wikia is a free-to-use site that makes money from advertising. We have a modified experience for viewers using ad blockers

Wikia is not accessible if you've made further modifications. Remove the custom ad blocker rule(s) and the page will load as expected.