Show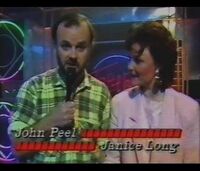 Name
Station
YYYY-MM-DD
Comments
This was the second of seven programs hosted by John Peel in 1985, on this occasion he is rejoined by Janice Long, who would go on to be his longstanding co-host. This was the week's singles chart.
This light green checked shirt appears to have been a favourite item of clothing during this time, as he can also be seen wearing it on the Old Grey Whistle Test.
Peel : "Hello, we're the WestEnders and welcome to another TOTP. Rather special TOTP actually because it's Shakin' Stevens' 50th birthday." Long : "No, you've got it wrong! It's his 50th appearance on TOTP!" (which was also wrong as it was only his 29th studio appearance on the show)
"Go West – a brace of likeable Cockneys who want to travel and meet people, and hit them with blunt instruments."
"At 35, Russ Abbot with Joy Division's "Atmosphere".
"At 15 it's good old Shaky, "Breaking Up My Heart".
(after David Cassidy) Long : "I'll have you know that I had him on my bedroom wall." Peel : "That seems to indicate a degree of agility I didn't believe you were capable of, Janice, I must say."
"Here's the Commodores partying up to No.3 – "Nightshirt", sorry "Nightshift", a little joke for you there."
"Right, that's the end of this week's TOTP. I'm off to see the mighty Fall and we're going to play you out with Hall and Oates."
Tracklisting
Video