Show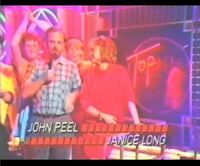 Name
Station
YYYY-MM-DD
Comments
Tracklisting
Bucks Fizz – Talking In Your Sleep (21 in the chart as of the date of broadcast)
Spandau Ballet – I'll Fly For You (9) (video)
JP: I'll Fly For You Argentina - that's Spandau Ballet mashing it up at no.9.
JL: They're on tour at the moment. In Nottingham tomorrow. JP: I'm at the Public Baths, Scunthorpe on Saturday. JL: Doin' all your hits! JP: Of course!
JP: Hot water nurse! Lots of hot water! That's Level42 and their best ever in my estimation.
JP: That's Alphaville and their tribute to the legendary Liverpool band Big In Japan. JL: Where are they now? .....
JP: Our Janice is another graduate from the John Peel School of Broadcasting.
JP: Well I bet whoever was on the other end of that has hung up by now. That's Stevie Wonder with a new no.1 record.
BB: I've got to present this show next week can you give me a bit of advice? JP: Just don't do it like this.
JP: This is Elton John playing us out with Passengers. Runners-up again this year Elt?
Elton John – Passengers (5) (audience dancing / credits)
Video
Ad blocker interference detected!
Wikia is a free-to-use site that makes money from advertising. We have a modified experience for viewers using ad blockers

Wikia is not accessible if you've made further modifications. Remove the custom ad blocker rule(s) and the page will load as expected.