Show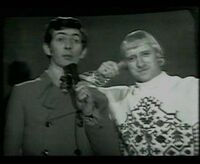 Name
Station
YYYY-MM-DD
Comments
Tracklisting
Video
The recording of this show is believed to have been destroyed by the BBC. The following clips of songs and artists that had appeared on the 01 February 1968 show are actually from the 15 February 1968 show and are included here to give a feeling of how the show looked at this time.
Ad blocker interference detected!
Wikia is a free-to-use site that makes money from advertising. We have a modified experience for viewers using ad blockers

Wikia is not accessible if you've made further modifications. Remove the custom ad blocker rule(s) and the page will load as expected.